Instant updates as the news happens!!!


See CalNews.com's updates and our archives on Facebook 24/7

You can also follow us on Twitter!

Tweet us your news scoops today!!!
Sacramento Bee


Racist cops attack Sacramento's African-American mayor


Sacramento police union head criticizes mayor's comments on Ferguson indictment decision
The head of the Sacramento police union said Tuesday he was upset with comments made Monday night by Mayor Kevin Johnson after a Missouri grand jury decided to not indict Ferguson police Officer Darren Wilson in the shooting death of Michael Brown. Soon after the grand jury's decision was announced, Johnson called it "just a sad day for America, in my opinion, when you think about injustice and all the things that have happened over the history of time. This one just doesn't feel right." Dustin Smith, head of the Sacramento Police Officers Association, said the mayor "shouldn't be disappointed, he should be relieved" that the grand jury did not find Wilson "acted in a heinous fashion." "It's a complete slap in the face to law enforcement throughout the nation," Smith said. Smith and Johnson met Tuesday and both said the meeting went well. "We cleared the air and felt good about it," the mayor said. Johnson said he stood by his comments.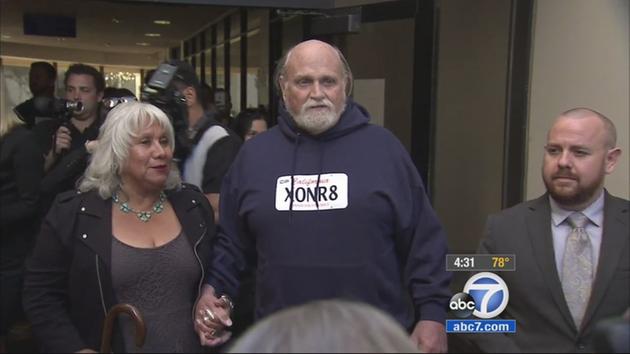 Los Angeles Times
California's Injustice System
Michael Hanline, wrongly convicted in 1978 killing, freed
I didn't think what happened to me could happen in America, but it did
When he first stepped outside, Michael Hanline looked up at the sky as if for the first time. Wearing a dark sweatshirt with "XONER8" across the front, his white hair pulled into a ponytail and a cane in hand, California's longest-serving wrongfully convicted inmate walked out of jail Monday a free man. His wife, Sandee, had brought him his cowboy boots, which she had kept clean and shiny over the last three decades, but they would not fit over his GPS ankle bracelet. Hanline, 69, was released from the Ventura County jail after most recently serving time at California State Prison, Solano, ending a 15-year effort by his attorneys with the California Innocence Project and his wife to free him after he was convicted in 1980 of murdering his friend and associate J.T. McGarry. "I feel like I'm in front of a missile and things are just flying by," Hanline said, holding Sandee's hand outside the jail. "It's incredible." Hanline was convicted of first-degree murder and sentenced to life in prison without the possibility of parole in 1980, two years after the shooting death of Ventura resident McGarry, also known as Mike Mathers. But in addition to DNA evidence that didn't match, several sealed police reports were uncovered that cast doubt on testimony by Hanline's then-girlfriend, Mary Bischoff, who was granted immunity and was a key witness during the trial. Hanline's release comes as the pace of overturned convictions appears to be accelerating nationwide with more DNA testing and awareness of other problems, such as the unreliability of eyewitnesses or false confessions.


Sacramento Bee


Deputy arrested on domestic violence charges
A veteran Sacramento County Sheriff's deputy was booked on suspicion of domestic violence over the weekend. Chris Lee Bliss was booked into the downtown Sacramento County Main Jail on misdemeanor domestic violence charges Saturday evening. Bliss, who has worked with the department for six years, is assigned as a deputy to the branch jail, Rio Cosumnes Correctional Facility in Elk Grove. Bliss was arrested on suspicion of domestic violence and battery against a person with whom he had a previous dating relationship. He was released from custody after posting bail, according to a press release from the sheriff's department. Bliss was arrested by sheriff's patrol deputies after they responded Saturday evening to a call from a concerned neighbor. Bliss will be placed on leave, pending an investigation by the department's Professional Standards Division. His next court appearance on the charges is scheduled for Wednesday.


Steven Greenhut
Obama's edict a mixed deal for our state
We hear this fact all the time: If California were its own country, it would have the eighth-largest economy in the world. Sometimes, our state's officials act as if we are a separate country. It's only a slight stretch to say California officials have been known to behave as if they direct their own foreign policy. After tens of thousands of mostly young Central American refugees swarmed U.S. borders this year, Gov. Jerry Brown welcomed the newcomers. He was re-elected by 20 percentage points — and didn't pay any political price for a stance that would have caused consternation elsewhere. The Legislature routinely muddies the distinctions between legal and illegal immigration, including a law that provides driver's licenses for unauthorized immigrants and another that limits local police departments' authority to detain unauthorized immigrants for the federal authorities. The tendency to take immigration matters into the state's hands isn't reserved for Democrats, either. In 1994, voters passed a Republican-backed initiative, Proposition 187. It screened immigrants for their legal status and blocked them from receiving many social services until federal courts found it unconstitutional. This "go it alone" backdrop informs my thoughts on President Barack Obama's executive order on immigration last week. He promised immigrants who are here illegally they can stay in the country temporarily provided they've been here more than five years, have children who are legal residents, pass a background check and pay taxes. It's sparked a nationwide controversy, but not so much in California.


Los Angeles Times
'90s immigration battle remade California's political landscape


California GOP's blatant racism killed their party and handed the West to the Democrats


The battle over what to do with people in the country illegally took a new turn last week with President Obama's explosive plan to protect up to 5 million of them from deportation. To watch from California was to peer through the rear window to the 1990s, when illegal immigration dominated political conversation here, en route to utterly remaking the state's political landscape. It was not solely conversation that remade the state, of course, but the collision of anti-illegal immigration efforts by Republicans and a massive influx of immigrants those efforts offended. If it seems laughable to think that less than a generation ago California was a red state. Politically speaking, the shift has placed one-fifth of the electoral votes needed to win the presidency in the hands of the Democratic Party. And as nearby states grow more Latino, they become more Democratic. Nevada and New Mexico used to be reliably Republican in presidential contests; lately they've been easily Democratic. Arizona appears to be following suit, if more slowly. In California, much of the blame has been placed on the 1994 ballot measure Proposition 187, which would have eliminated state services for those in the country illegally, and the Republican governor who backed it, Pete Wilson.


Sacramento Bee


Business turns its back on the GOP...California campaign spending boosts business-friendly Democrats
Hoping to reshape the Democratic coalition governing the California Legislature, business-backed outside groups spent millions during the 2014 election cycle to elect Democrats they believe will be more sympathetic to their interests. Newly elected Democratic candidates aided by business-funded groups posted an impressive record. In seven out of 10 races to fill open seats, the Democratic candidate who benefited from independent spending by business groups prevailed. Those results have prompted talk of a new generation of business-friendly Democrats assuming office. Some groups that spent lavishly on behalf of those Democrats are touting their success. Californians for Jobs and a Strong Economy, for example, spent $1.1 million on the effort, and the group's leader predicted that "economic Democrat" lawmakers will have considerable clout in the coming session. Fifteen years ago, "there were six (such Democrats) in the Assembly," said David Townsend, who oversees Californians for Jobs and a Strong Economy. "When they get sworn in for the next session, exactly one-half of the Democratic caucus will be mods." The campaign spending by industry-funded groups showed those entities favored some Democrats over others. In some cases, they invested heavily in primaries, hoping to push chosen candidates into general elections nearly certain to be won by Democrats given the district. In others, they worked to elevate one Democrat over another in the same-party races that have proliferated in the top-two primary system.


Long Beach Press-Telegram
Shell offers $90 million to residents of contaminated Carson neighborhood


Carson residents screwed by Shell, then sold out by their attorneys


Just eight months ago, prominent Los Angeles attorney Tom Girardi used words like "disgusting" and "despicable" to describe Shell Oil Co. He vowed at the time not to accept a financial settlement from Shell for Carson residents living with widespread petroleum contamination traced to the oil giant. "We want a jury to look at this," he said in March. But Girardi's tune has changed since the company offered $90 million earlier this month to settle the lawsuit brought by Girardi & Keese on behalf of 1,491 current and former residents of the Carousel Tract in south Carson. "The Shell defendant has shown great honesty and integrity," Girardi said last week. But some residents haven't had a similar change of heart. At least one flier has been distributed asking Carousel neighbors to refuse the offer that would end the long-running legal saga that began six years ago with an environmental investigation. "Before signing, beware," the anonymous flier states. "(The offer is) not worth all the time and sacrifice we have made while living in this mess. The only ones benefitting are Girardi & Keese and Shell. Think before you sign." However, a group-signing event at Carson's DoubleTree hotel last week drew so many plaintiffs that the gathering had to be dispersed early because of crowd-control concerns, according to residents speaking on condition of anonymity. According to a confidential letter to residents from Girardi & Keese obtained by the Daily Breeze, the $90 million would be split between attorneys and residents, with a court-appointed "special master" to determine how much each plaintiff will receive based on their personal injury and property damage claims. Shell also has offered to compensate residents if they sell their homes for below-market values.



San Francisco Chronicle


Leaked transcript shows Geico's stance against Uber, Lyft
The Geico gecko won't be hopping into a Lyft or UberX car any time soon. An internal sales-training document from the insurance giant lays out the hard line it takes with policyholders who give paid rides through the two San Francisco companies. "Please Group Reject the policy" of customers involved in "ridesharing," one section reads. Another provides a script for telling customers that their policies don't cover vehicles used for the ride services, and that they can seek coverage elsewhere for their cars — or may have to prove they no longer drive for Uber or Lyft. While it's long been known that many insurers reject personal auto policies if they discover that the drivers engage in commercial activities, the frank language of the script obtained by The Chronicle — and three mentions of referring ride-service drivers to a fraud unit — underscores how seriously insurance companies view the situation. "Private passenger auto policy isn't intended to cover livery services," said Nicole Mahrt Ganley, a spokeswoman for the Property Casualty Insurers Association of America. "There is little question that engaging in livery services is a material change in the nature of the risk being insured, and most states would allow companies to cancel coverage in those situations." Geico spokeswoman Christine Tasher declined to comment beyond saying the company agrees with Ganley's statement. Uber and Lyft declined to comment.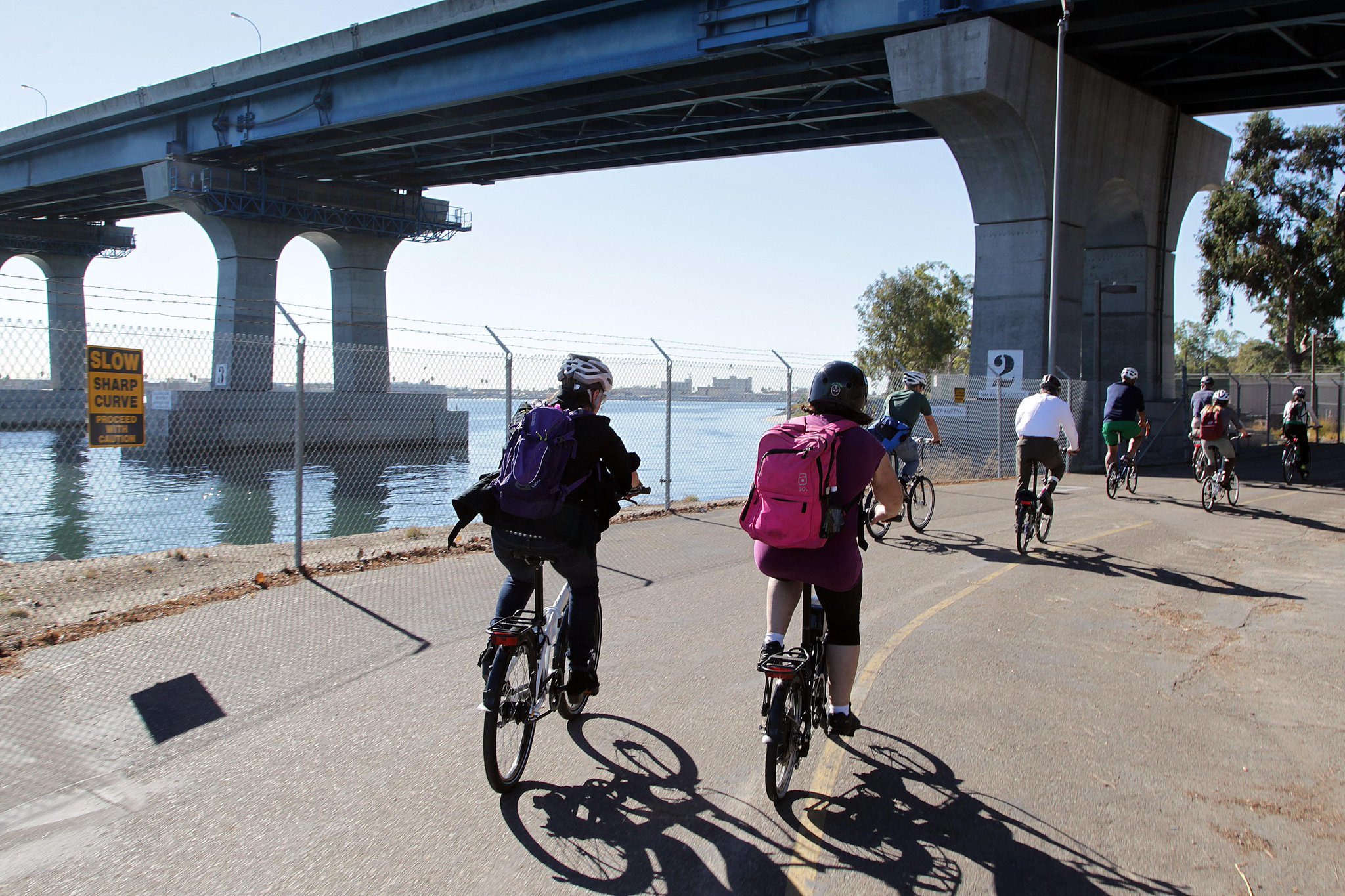 Union-Tribune
Cyclists faulted most in bike-car crashes
When a state law in September required drivers to stay 3 feet from bicyclists while passing, a heated debate erupted over sharing the road, namely whether it was motorists or cyclists who were most to blame for crashes between cars and bikes. The Three Feet For Safety Act's author and cycling enthusiasts had argued bicyclists were too often victims of overly aggressive drivers buzzing by. Others responded to the news by recounting times they'd seen a cyclist whiz through a stop sign. According to the 2,515 accident reports on crashes between cyclists and motorists resulting in the injury or death of a bicyclist in San Diego County from 2011 to September 2014, it was the cyclist who was most often found at fault, when fault was determined. San Diego police traffic Lt. Leonard Flake said that in 28 years as an officer who deals with crashes, he found it was the cyclist who was at fault a majority of the time. "Many of those cases were violations of right of way, where the bicyclist cut in front of a car or decided not to stop at a stop sign or a red light — just rode right through it," Flake said.


Idiots on bikes who don't obey traffic laws.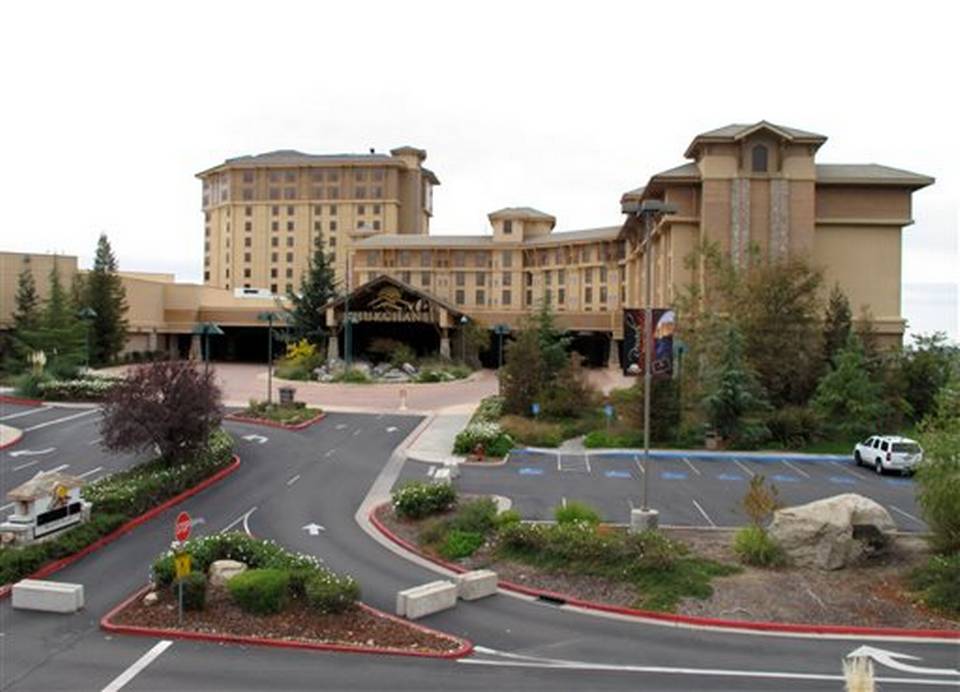 Sacramento Bee


Feckless tribes out of control: California Indian casinos embroiled in turmoil
When it comes to controlling California's flashy Las Vegas-style casinos, the stakes are enormous for tribes who own the gambling operations that collectively generate billions of dollars a year to sustain Native Americans up and down the state. With this backdrop, several tribes in the past two years have fallen into nasty, sometimes violent, power struggles pitting factions and families against one another. The most recent case, involving the Picayune Rancheria of Chukchansi Indians near Yosemite National Park, climaxed in an armed raid on Oct. 9 by one faction that caused gamblers to flee, leaving their chips on the table. The National Indian Gaming Commission, which regulates Indian casinos, and a federal judge shut down the Chukchansi Gold Resort and Casino, citing safety concerns. Charges have been filed against 15 men — two tribal council members, the tribal police chief and a hired security team that included a former sheriff's deputy and onetime Marine, and a former Navy Seal. The casino remains closed — with estimated losses in the millions each week — because rivals have yet to diffuse what U.S. District Judge J. Lawrence O'Neill of Fresno called an "explosive keg" of emotions. Congress passed the Indian Gaming Regulation Act in 1988, setting the stage for sovereign Native American governments to open full-blown casinos. Indian casinos generated $28 billion last year from 449 casino operations in 28 states, according to the National Indian Gaming Commission. About 65 Indian casinos in California took in one-quarter of those earnings at nearly $7 billion. California outperformed the Las Vegas Strip, which drew $6.5 billion last year, says a University of Nevada, Las Vegas, Center for Gaming Research report. Experts say this influx of money, which provides, jobs, housing and benefits to many tribal members, has helped spark friction.


Daily News


Drugging our kids: RX alliance rewards doctors as drug companies get richer
The federal Justice Department prosecuted each of the manufacturers of the top five antipsychotic medications billed to California's foster care system over charges they illegally marketed the drugs to children and seniors. An investigation by this news organization has found that drugmakers, anxious to expand the market for some of their most profitable products, spent more than $14 million from 2010 to 2013 to woo the California doctors who treat this captive and fragile audience of patients at taxpayers' expense. Drugmakers distribute their cash to all manner of doctors, but the investigation found that they paid the state's foster care prescribers on average more than double what they gave to the typical California physician. Overall, drugmakers reported payments to 908 doctors — well over half of those who prescribed psych medications to the state's foster children, according to this news organization's analysis of prescribing data and four years of pharmaceutical company payments compiled by the public interest journalism nonprofit ProPublica. And those who prescribed the most typically received the most, the analysis found. The results provide the most comprehensive look to date at the pharmaceutical industry's influence on the doctors who treat the 60,000 kids in the country's largest foster care system — a lucrative target because Medi-Cal pays the bill with little scrutiny.


Jim Miller


Outside money talked in legislative races this month
Campaigns for state contests on the Nov. 4 ballot featured more than $50.6 million in outside spending by oil companies, unions and trade groups in the months before the election, with almost $33 million of that spent in races for the Assembly and state Senate, according to the latest state filings. Did all the TV ads, mailers and other advocacy efforts work? Of the 15 legislative candidates getting the most outside help, 10 ended up winning their races. The campaign with the most outside spending wasn't for the Legislature: The battle for California superintendent of public instruction had more than $15.9 million in independent expenditures. Schools executive Marshall Tuck benefited from $10.2 million in outside spending in his loss to incumbent Tom Torlakson, who had $5.63 million. The overall total also doesn't include what outside interests spent in the state's congressional contests. So-called Super PACs spent more than $26 million in California races since the June primary, according to federal reports.


Los Angeles Times
Miramonte sex abuse civil cases settled: Pervert teacher costs taxpayers millions
A settlement was announced Friday between the Los Angeles Unified School District and the families of victims of former Miramonte Elementary School teacher Mark Berndt. An attorney representing plaintiffs in the Miramonte Elementary School child abuse scandal thanked the L.A. Unified School District for agreeing to a $139-million settlement Friday but urged school officials to continue to push to safeguard children in the system. John Manly, another attorney who handled the civil cases, said there was "a volcano of evidence" against the district. He said that L.A. Unified settled the case because there was "a legal gun pointed at their head." Manly also took to task the Board of Education. saying the seven members never held a public meeting on Miramonte; rather, he said they handled the matter entirely in secret. "If I was a board member of this district, I would hang my head in shame," Manly said. The pact will settle about 150 legal claims from Miramonte parents and children who chose to push forward with the civil trial. Dozens of claims were settled last year for about $30 million. The Friday announcement covers 81 former Miramonte students who were subjected to Berndt's lewd acts. The court will independently review each claim and determine the appropriate amount for each of the 81 families involved.


San Francisco Chronicle
More on PG&E and PUC's outrageous behavior...
PG&E gas-line probe by state was slow to launch
It took a four-year string of six accidents blamed on inaccurate natural-gas system records for California regulators to open an investigation into whether Pacific Gas and Electric Co. knows the condition of the pipelines that run into people's homes and businesses, according to a Chronicle review of state records. PG&E, which is already facing $1.4 billion in penalties for safety violations related to the deadly 2010 explosion of a gas transmission line in San Bruno, could now be fined millions of dollars more for similar problems with its smaller distribution lines. On Thursday, regulators with the California Public Utilities Commission levied a $10.8 million fine against PG&E for a pipeline accident that caused a March 3 explosion in Carmel. They also cited a nearly identical accident that happened eight months earlier in Mountain View, in which damage was averted. No one was injured in either incident, but the Carmel blast destroyed an unoccupied cottage. The commission also opened a formal investigation into PG&E's distribution system, more than 40,000 miles of pipes, most 2 inches thick or smaller, that branch off from larger transmission lines like the one that ruptured in San Bruno. The commission concluded that the six incidents provide a "strong showing that PG&E may have violated applicable law," and suggested the company's distribution-pipe records were "inadequate to make critically important, ongoing safety decisions."


Mercury News


#PoliceState Update: Cameras that read 263,430 license plates in Menlo Park


Menlo Park mayor loves having the city locked down, embraces the #PoliceState


Three license plate readers that Menlo Park police began using this summer captured images of more than 250,000 plates between July 1 and Oct. 1, according to a police staff report. Out of all those images, however, only one could be tracked to a crime. Police recovered a stolen car and arrested the thief. The readers, which cost a total of $57,914, are mounted on the roofs of two marked patrol cars and one unmarked vehicle used by detectives. Each has four high-speed cameras that take pictures of license plates in front of, behind and alongside police cars. The collected data is then uploaded to a server managed by the Northern California Regional Intelligence Center, part of the Department of Homeland Security. According to the staff report, 263,430 license plates were photographed in the first three months that the readers were used. Of those, 141 plate numbers registered as a "hit," matching those of vehicles on an active wanted list that were stolen or associated with missing people. The Menlo Park City Council in September 2013 approved the license plate readers' purchase. Mayor Ray Mueller said Friday that although license plate readers are "another tool in the arsenal of our police department," their use was hotly debated by council members.



Sacramento Bee


California National Guard members plead guilty to fraud


Six other National Guard members were also indicted in May


Two former California National Guard members have pleaded guilty in federal court in Sacramento to charges of wire fraud stemming from a scheme involving recruiting bonuses. The U.S. Attorney's Office announced that Brian Kaps, 40, of Chico, pleaded guilty Friday to one count of wire fraud, and Sarah Nattress, 27, of Paradise, pleaded guilty Oct. 23, also to one count of wire fraud. According to court documents, the U.S. Army contracted with Document and Packaging Brokers, also known as Docupak, to administer the Guard Recruiting Assistance Program. Under the program, members of the California National Guard served as recruiting assistants. If a recruiting assistant referred a potential Guard member to a recruiting office and that person ultimately enlisted, the recruiting assistant was eligible for monetary compensation disbursed by Docupak. Nattress and Kaps served as recruiting assistants. In separate cases, they pleaded guilty to taking part in a scheme to cause Docupak to issue unearned recruiting compensation by falsely claiming that they had referred various enlistees to recruiting offices.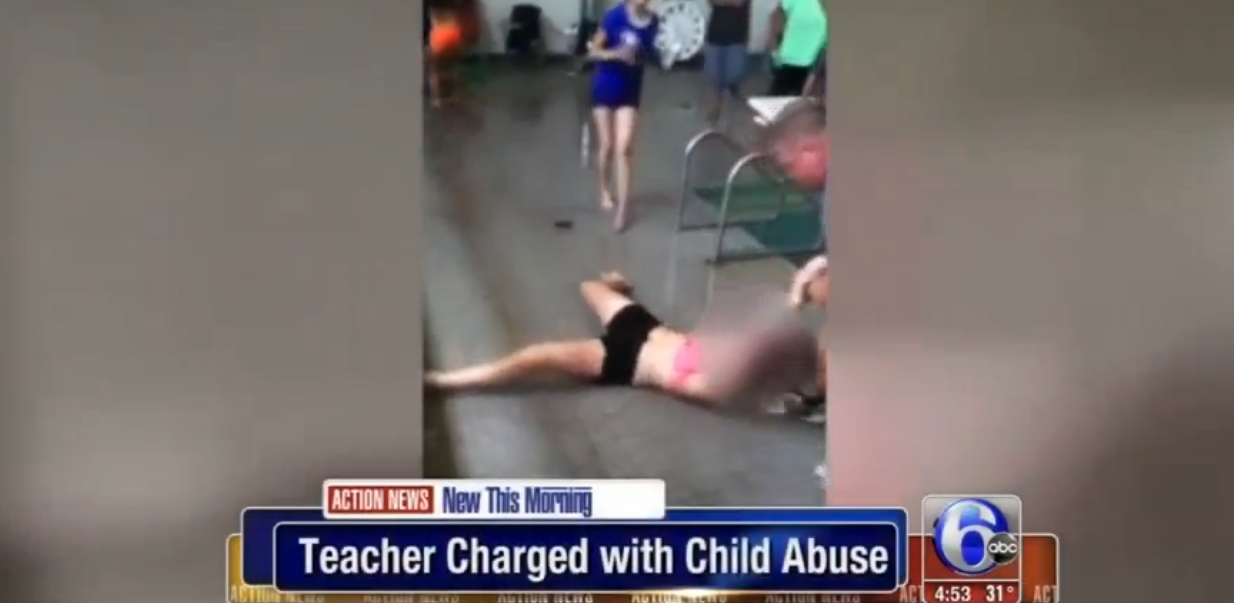 San Francisco Chronicle
Psycho teacher charged with child abuse for dragging student by her hair
A Northern California physical education teacher is in the hot seat after a student captured video footage of him dragging a 14-year-old girl by the hair across a pool deck. The incident happened in August and Denny Patterson is now being charged with corporal injury to a child. The story goes that the unnamed student planned to attend a special event that night and had her hair done in the morning. She didn't want to ruin her hairstyle by swimming during gym class and refused to jump into the water. Patterson was adamant that the student needed to participate and dragged her across the tile deck before forcing her into the water. Wearing only swim shorts and a bikini top, the girl kicks and screams while being pulled toward the pool and screams that her top is falling off. Another students hits the teacher with a kick board and another throws water.


Los Angeles Times
De Leon fires dozens, makes room for his own cronies
After years of turning down cost-of-living increases for its budget, the state Senate on Friday notified its workforce that 39 employees will be laid off at the end of the year to avoid a multi-million-dollar deficit, a cut of about 4% of the total staff in the upper house. The cuts and a reorganization were ordered by incoming Senate leader Kevin de Leon (D-Los Angeles), who ordered that the changes not affect the staff working in each senator's office or serving legislative committees, officials said. Senate employees with five or more years of service will get two months' severance pay in addition to any accrued vacation; newer employees will get one month of severance, officials said.


Sacramento Bee
For Jerry Brown, tough going with UC regents
The animosity with which Brown and the Board of Regents fought this week in San Francisco laid bare how far apart the governor and one of the state's most powerful institutions have become – and how difficult it will be for Brown to exert influence over UC in his fourth term. Despite his Yale law degree and fondness for obscure texts and intellectual acquaintances, the 76-year-old Democrat has long been skeptical of academia. This is a politician who said when he was governor before, from 1975 to 1983, that professors can be paid less because of "psychic income" they derive from their jobs. More recently, Brown has admonished UC to "get more grounded" in its approach to education, and this week he urged the system to cut costs instead of raising tuition. In a 14-7 vote, the Board of Regents demonstrated its willingness to resist Brown, as did UC President Janet Napolitano. The rollout of her plan to raise tuition by as much as 5 percent annually over each of the next five years appeared to take the administration off guard. Brown officials said UC was breaking a budget deal. In his budget documents, the governor had conditioned modest annual funding increases to UC on the system holding tuition flat. But the two sides never made a formal pact preventing a tuition increase, and Napolitano held fast. Napolitano's ability to maneuver around Brown is the product of UC's independent administration by the regents, constitutionally subject to only limited legislative oversight. This has protected the institution from the kind of broader changes Brown has enacted in law enforcement, with prison realignment, and in K-12 education, with the shift of more money to poor and English-learning students. But the budget is one of the few areas in which Brown does have leverage over UC, and he has used it to exert pressure on the institution in recent years.


Mercury News


PG&E Getting Away With Murder: State regulators fine PG&E $1 million


Critics slammed the decision: "The PUC's credibility could not be lower"


The state Public Utilities Commission on Thursday slapped PG&E with a $1 million fine and ordered a potential $400 million reduction in monthly natural gas bills as punishment for the utility's attempts to improperly influence the outcome of a rate case linked to a fatal explosion in San Bruno. Critics slammed the decision, saying it did not go far enough to disrupt the cozy relationship between the utility and state regulators. The ruling was in response to a widening email scandal showing that PG&E and regulators worked closely together to find a judge who would craft a decision favorable to the utility in a key gas transmission and storage rate case. "The PUC's credibility could not be lower," said Thomas Long, legal director with The Utility Reform Network, a consumer group. "The agency should be taking steps to restore that credibility. That's what needs to happen. The PUC is turning a deaf ear to that need." Investigators believe the deadly San Bruno disaster resulted from a combination of PG&E's shoddy maintenance, flawed record keeping and the commission's lax oversight of the utility.



OC Weekly




Anaheim Police Chief Looking For Trouble


Cops Want To Use Ferguson Grand Jury Decision As Reason To Roust The Public
The Anaheim Police Department is still plagued by "riot fear" more than two years after unrest erupted in the city's downtown. The reason? It's not over the Orange County District Attorney's office clearing APD's Nick Bennallack in the fatal shooting of unarmed 25-year-old Manuel Diaz. According to a letter obtained by the Weekly, the cause for concern this time around is possible protests after a Ferguson grand jury decides whether or not to indict police officer Darren Wilson for gunning down unarmed 18-year-old Michael Brown. With a decision expected soon, Anaheim police chief Raul Quezada addressed an inter-faith organization yesterday about the situation. Ludicrously expecting the worst of Anaheim is nothing new for Anaheim's po-po. Last year "tone setter" meetings were held ahead of the OCDA's March 20 report on the Diaz killing. APD went so far as to set up a command post by La Palma Park, and one of its ghetto birds whirled over the department's headquarters. What happened? Protesters simply shouted down the first city council meeting after the decision, marched outside city hall and held their signs.


Anaheim's thug cops want to use Ferguson grand jury decision to roust locals.
Sacramento Bee




The Gang That Can't Shoot Straight


Did Republicans miss their chance at unseating Ami Bera?
For Doug Ose, the political winds seemed to be at his back. He was a top-flight
contender to oust Democratic Rep. Ami Bera of Elk Grove, a freshman lawmaker in the minority of a deeply unpopular Congress. President Barack Obama's popularity was slipping even in blue California, and statewide voter turnout was expected to be anemic even by the lower standards of midterm elections. Ose previously served three terms in the House, and had a healthy donor network and millions of his own dollars to fuel the campaign. Ose, who in a Thursday interview did not rule out another run for the office, said he believes people here think the country is on the wrong track and in need of a change. That was the central theme of his campaign, and he applied the argument to health care, jobs and the economy, education, immigration and the nation's declining stature. And yet roughly 1,400 more voters in the 7th Congressional District decided to support Bera.


Sacramento Bee
California tobacco tax backers unveil new campaign
Seeking to further reduce California's already-low smoking rates, a coalition of labor and health advocates unveiled on Thursday a campaign to impose a $2-a-pack cigarette tax through legislation or a ballot initiative. Tobacco use continues to addict young people and kill thousands of Californians annually, doctors and health advocates argued at the Thursday morning news conference. High taxes are a proven tool for discouraging smoking, they said. Backers also argued that the cost of treating tobacco-related illness is burdening California's public health system. Terry Brennand of the Service Employees International Union, whose members include nurses and other health care workers, pegged the price tag at $3 billion a year for Medi-Cal alone. Money from the tax, if passed, would flow into areas like Medi-Cal administered services, smoking prevention programs and research. "This effort will go a long way toward restoring the research and prevention aspect but also funding the tobacco impacts," Brennand said. Boosting California's tax would bring the state in line with others, said advocates who noted that 32 states impose a heftier tobacco tax than California.


Sacramento Bee
Jury convicts man of murder, hate crime in Arden Way killing


Racist jerk murderer heading to the slammer for a long, long time


Two days of deliberations was all the time a Sacramento jury needed to return a first-degree murder conviction Thursday against a white man who ran over and killed a black man and all but blamed it on President Barack Obama. Joseph Paul Leonard Jr. is looking at a sentence of at least 25 years to life in prison for the June 6, 2013, death of Toussaint Harrison in the midst of a moving street fight that began in the parking lot of a McDonald's on Arden Way. Prosecutors attached a hate-crime allegation to the case that the jury found to be true. The panel also convicted Leonard of attempted murder for trying to run over Harrison's partner, Justin Oliphant. One member of the Superior Court jury said it looked to them as if Leonard started the fight and passed up plenty of opportunities to walk away from it.


Fresno Bee
Jim Costa keeps House seat, edging out Johnny Tacherra in another late-vote rally
For the second time in the past three elections, Fresno Democrat Jim Costa has rallied from an election night vote deficit to win re-election to Congress. Fresno, Madera and Merced counties on Wednesday finished their vote counting in the 16th Congressional District, and the final tally has Costa ahead by 1,319 votes. The victory margin over unheralded Republican Johnny Tacherra won't change by more than a vote here or there as officials in the three counties clean up a few remaining ballots before they certify their results. The Fresno update was the day's most anticipated, but by the time it came at 3 p.m. Wednesday, it was already clear that Costa would be returning to Washington for his sixth term.


Sacramento Bee
Bera beats Ose in high-priced congressional race
More than two weeks after polls closed, Rep. Ami Bera won a second term to represent a seat covering suburban Sacramento County, denying Republican challenger Doug Ose a return to Washington and ending the California GOP's chances of unseating its first Democratic House incumbent since 1994. Bera, an Elk Grove physician, trailed Ose by more than 3,000 votes at the close of election night and steadily closed the gap before surging to a 700-vote advantage last week, as county election officials tallied tens of thousands of remaining ballots. He led Wednesday by 1,432 votes with nearly all ballots counted. Bera's campaign attributed the late success to an aggressive get-out-the-vote operation that was the largest in the nation when he ousted GOP then-Rep. Dan Lungren in 2012. This cycle, the freshman lawmaker's campaign knocked on 270,000 doors and made 950,000 phone calls. California Democrats came off election night on the brink of faltering in close congressional races, but rebounded as overtime ballot-counting favored their party. Reps. Scott Peters of San Diego, Julia Brownley of Thousand Oaks and Jim Costa of Fresno pulled away from their rivals. Democratic Reps. Raul Ruiz of Palm Desert, Jerry McNerney of Stockton, John Garamendi of Walnut Grove and Lois Capps of Santa Barbara also weathered the national Republican wave that swept over many of their colleagues. The only California House district to change partisan hands went to Redlands Democrat Pete Aguilar, who claimed the seat left vacant by retiring Republican Rep. Gary Miller.


Sacramento Bee


UC regents move tuition increase plan forward
University of California regents moved forward with a controversial plan Wednesday to raise tuition if the state does not give the system more money, with the proposal expected to be finalized Thursday. The vote by a committee of regents came over the objection of students, who linked arms to block the entrance to the Board of Regents meeting in San Francisco, and of Gov. Jerry Brown, who moved days before the meeting to appoint two regents opposed to the tuition plan. The rancorous hearing served as an opening to months of budget negotiations between university officials and the Democratic governor. Brown said the UC system has failed to reduce costs, while regents accused Brown of failing to invest in higher education even as California's financial outlook has improved. Lt. Gov. Gavin Newsom, who sits on the board and opposes the tuition increase, said he was certain the full board will approve the tuition plan Thursday, calling it a "fait accompli." "The day this was announced, it was a foregone conclusion," he said. "It's pretty demoralizing, as the lieutenant governor, to feel you have no influence on the outcome."


Sacramento Bee
PG&E could be fined over alleged secret dealings
State regulators are set to consider whether to fine Pacific Gas & Electric Co. and require its shareholders to cover as much as $200 million of a gas rate increase because of backroom negotiations between the utility and regulators. Recently released emails show a PG&E executive and California Public Utilities Commission officials discussing which judge to appoint to a case over gas rates, with the executive objecting to one judge for having a history of being hard on the utility. The emails are the latest in a series released by the utility and others that allegedly show PG&E executives privately negotiating with CPUC officials. The CPUC could decide at its meeting Thursday whether to fine PG&E $1 million for the emails about the judge and whether to require PG&E shareholders to cover a portion of the proposed rate increase instead of utility customers. Shareholders could be on the hook for as much as an estimated $200 million, though ratepayer advocates say the commission has discretion to require a much lower figure. They are demanding that the commission release tens of thousands of additional emails that they say may also show illegal contact between the CPUC and the state's largest utility.


Jim Miller
California revenue projected to exceed budget estimates by $2 billion


Thanks to massive tax hikes, Sacramento has a huge budget surplus - feckless pols are ready to spend it all


Barring a stock market slump that drags down the state's economy, California budgets will run surpluses through the end of the decade even as temporary tax increases phase out over the coming years, the Legislature's nonpartisan fiscal analyst said Wednesday. The fiscal outlook by the Legislative Analyst's Office also projects that the state will take in $2 billion more in revenue through June than lawmakers expected when they approved the current budget plan. All of the increase will be absorbed by the state's voter-approved constitutional funding guarantee for schools and community colleges. And the state is on pace to have $4.2 billion in reserves by June 2016 under Proposition 2, the rainy-day reserve passed by voters earlier this month. But up to $2.2 billion of that would not be covered by Proposition 2's tight restrictions and could be tapped by lawmakers for new spending proposals in the fiscal year that begins July 1 – over and above spending increases included in the current budget. A larger reserve would lessen the need for cuts if the state suffers another economic downturn, Legislative Analyst Mac Taylor said Wednesday. "We need to have as much money as possible built up," he said. "We would discourage them from going too much into those reserves." Lawmakers, though, already seem to be looking at ways to spend at least some of the money. In a statement, Senate President Pro Tem Kevin de León said the Legislature needs to consider "making prudent and wise investments to continue building the state's economic strength."



Los Angeles Times


Redlands firefighter arrested for murder
A Redlands firefighter and a woman with whom he allegedly was having an affair were arrested Wednesday in connection with the shooting death of the woman's husband. Jonathan Michael Hearn, 24, a member of the Redlands Fire Department who lives in Hesperia, and Sabrina Limon, 35, of Helendale, were arrested Wednesday on suspicion of murder and conspiracy charges for allegedly killing Limon's husband, Robert Limon, 38. Robert Limon was shot to death in August. His body was found at his workplace, BNSF Railway shop in Tehachapi, according to the Kern County Sheriff's Office. Authorities allege that Hearn and Sabrina Limon conspired to kill her husband and then attempted to make it appear to be a robbery. Hearn was arrested on charges of first-degree murder and conspiracy to commit murder. Sabrina Limon was arrested on charges of first-degree murder, conspiracy to commit murder and accessory to murder.


Daily News


Another criminal cop fired...? You don't get the boot for doing a GOOD job...


Pasadena City College Board fires Police Chief Don Yoder
Pasadena City College Police Chief Don Yoder, who has been on paid administrative leave since May, has been fired by the college's board of trustees. When Yoder was put on leave, college officials said they were conducting an investigation about him, but said no legal claims had been filed against the college regarding Yoder's conduct. College legal counsel Gail Cooper declined to comment on the details of the board's decision, which was made in closed session at Monday's board meeting. "The Board voted to end Mr. Yoder's employment. However, the reasons for the decision are confidential," Cooper said in a statement. "The District respects the right of privacy of its employees and former employees and will not comment further on this matter." Yoder was hired in January 2013 from the San Bernardino County Sheriff's Department.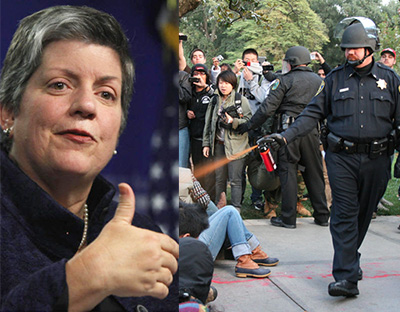 Sacramento Bee|
"Education is a right, not a debt sentence"
UC Davis students protest proposed tuition hike on anniversary of pepper spraying
With the University of California regents scheduled to start debate Wednesday on proposed tuition hikes that could total 25 percent over five years, hundreds of UC Davis students protested Tuesday in what has become a familiar ritual on public campuses around the state in recent years. The demonstration marked the third anniversary of the notorious UC Davis pepper spraying incident, which occurred on Nov. 18, 2011, during a protest on the campus quad by students upset about the increasing expense of a UC education. "Three years later, it's kind of demoralizing. Here we are again," said Armando Figueroa, president of Associated Students, University of California, Davis. He said representatives of the campus leadership group had been meeting with officials to discuss the proposed tuition increases and would continue to do so. Tuesday's mood was raucous, with speakers shouting profanity-laced tirades, but there wasn't a uniformed cop or a canister of pepper spray in sight. The group marched on the university's main administration building, Mrak Hall, and took over its lobby and stairwell for a half hour without interference. The current plan put forward by UC President Janet Napolitano calls for raising tuition by up to 5 percent annually over the next five years at the university's 10 campuses.


Sacramento Bee


California's illegal immigrant population drops, still largest
California still has, by far, the nation's largest population of illegal immigrants, but it declined between 2009 and 2012, according to a new report by the Pew Research Center. The overall number of illegal immigrants in the nation was virtually unchanged at 11.3 million in 2012, Pew said, but it increased in seven states while declining in California and 13 other states, largely due to a sharp drop in immigration from Mexico. The estimated drop in California was fairly scant, down 50,000 to 2.45 million, about 6.4 percent of the state's overall population. However, Pew says illegal immigrants are 9.4 percent of California's labor force, second only to Nevada's 10.2 percent. Those numbers give California a major stake in President Barack Obama's stated intention to legalize several million illegal immigrants by executive action because Congress has not enacted immigration reform.


Los Angeles Times
Top insurers overstated doctor networks, California regulators charge


They're simply liars: Anthem Blue Cross and Blue Shield of California


Bolstering a chief complaint about Obamacare coverage, California regulators said two major health insurers violated state law by overstating the number of doctors available to patients. More than 25% of physicians listed by Anthem Blue Cross and Blue Shield of California weren't taking Covered California patients or were no longer at the location listed by the companies, according to state reports released Tuesday. In some cases, these errors led to big unforeseen medical bills when patients unwittingly ventured to out-of-network doctors for medical tests or a surgery. The results of the five-month investigation come at a critical juncture as the second year of health law enrollment gets underway and more than 1.2 million Californians are shopping in the state's insurance exchange. "We found the provider directories made available to the public had significant errors," said Shelley Rouillard, director of the California Department of Managed Health Care. "When you have a quarter or more of physicians that aren't available, that is significant." Anthem and Blue Shield account for nearly 60% of enrollment in Covered California. The two industry stalwarts have long catered to patients wanting the widest selection of physicians. As a result, their narrower networks and more restrictive policies were a jolt to many people and often came to light only when they were getting treated. The insurers compounded the problem with inaccurate provider lists, mislabeled insurance cards and false assurances about coverage, according to patients, doctors and regulators. The Department of Managed Health Care hasn't determined what penalties, if any, will be imposed on the insurance companies. The state plans a follow-up survey in six months to check whether the insurers have fixed the problems. Consumer advocates urged officials to impose fines or take other measures immediately so patients will have reliable information for the current enrollment period through Feb. 15.


San Francisco Chronicle
Uber executive's suggestion to smear journalists backfires
Uber, the enormously popular car-booking service, was trying to improve its relationships with reporters last week. Instead the company proved that it deserves all the recent media criticism that's been coming its way — and maybe a lot more. Uber executives were holding a private dinner in Manhattan that they apparently believed was off the record. The company's senior vice president of business, Emil Michael, believed this gave him license to suggest that Uber should handle scrutiny by digging into the details of critical journalists' personal lives. When someone suggested that attempting to smear reporters would cause trouble for the company, Michael said that "Nobody would know it was us." The suggestions are shocking, disturbing and completely unethical. Fortunately, a reporter was present who didn't realize that the dinner was supposed to be off the record — and he rightly reported Michael's remarks. Days later, the company has attempted to backtrack via a series of tortured apologies, but Michael is still in his position. Uber is a global company that earned a $17 billion valuation when it did a funding round in June. It has a tremendous customer base and political support at the highest levels (and of course, one of its senior vice presidents is former Obama top operative David Plouffe). It's a potential world giant, not the local Mafia. It needs leadership that behaves accordingly. What this latest scandal means for Uber is that journalists are now more likely to scrutinize the company, not less.


San Francisco Chronicle


Taxi drivers even bigger a$$holes than Uber executive Emil Michael


San Francisco taxi drivers promise a repeat of airport protest
The chaotic cabdriver protest that clogged traffic and stranded travelers at San Francisco International Airport on Monday night will likely not be the last battle in the war between traditional taxis and on-demand ride services like Uber and Lyft. A recently organized coalition of San Francisco taxi drivers, pleased with the impact of the protest, vowed Tuesday to bring more disruption to SFO unless the airport director agrees to discuss their concerns that the ride services are being given an unfair advantage in serving the airport. "That's just a sample that we showed them," said Harbir Singh, a taxi driver and board member of the San Francisco Taxi Workers Alliance, which organized the protest. "We will do it again and again, every now and then. They have to listen to us." The protest was the latest skirmish in the ongoing fight between San Francisco's much-maligned taxi industry and the technology-driven ride-service startups that use drivers in personal cars and are summoned by smartphone apps. Taxi operators complain that the newcomers are barely regulated while the ride services argue that the cab industry was a monopoly in need of a shakeup. It was tough for anyone at SFO not to notice the protest. Hundreds of taxis — honking their horns and flashing their headlights and taillights — circled the arrival level between 9 p.m. and 11 p.m., most of them refusing to pick up passengers.


San Francisco Chronicle
Analysis: Investors don't care how badly startup founders behave


Wall Street investors to dot.coms: Make us money - we're OK with you being jerks


The bad boys of the tech world can behave like bullies with impunity — as long as they are on a path to making money. That seems to be the lesson from Uber's latest scandal, in which a top executive publicly floated the idea of a million-dollar campaign to dig up dirt on the personal lives and families of journalists critical of the San Francisco ride-service company. Uber and some investors responded with apologies via Twitter but otherwise seemed to shrug off the latest in a list of Uber public relations nightmares, including car crashes and assaults by drivers with sketchy records, reports of dirty tricks to sabotage rivals, and violations of rules regulating for-hire cars in cities worldwide. "It's clear the investors aren't acting," said Sarah Lacy, editor of tech website PandoDaily, whose personal life was singled out for a possible smear campaign after calling for customers to boycott Uber due to a sexist promotion in France. "If you step back and look at the company, this is an escalating pattern of behavior with seemingly no repercussions," she said. "This is the latest and scariest incarnation. The investors are either too scared to act, or feel like it will upset their standing in the company and their equity stakes are just worth too much."


San Francisco Chronicle
Feckless rat cop in San Francisco corruption trial describes big haul and purchases
The key prosecution witness in the San Francisco police corruption case, a fired officer who has admitted stealing money and drugs from suspects, testified Tuesday that two now-suspended officers joined him in a succession of thefts — one of them in an operation that also netted them Police Commission commendations. Former Officer Reynaldo Vargas described a May 2009 incident in which he, Officer Edmond Robles and Sgt. Ian Furminger drove to Newark to assist in a federal investigation of a suspected drug dealer. After searching the home, Vargas said, he went in the backyard, saw a shovel, found a soft spot of ground and dug up more than an ounce of heroin and a bag containing $30,000 in cash. It was the kind of haul that he, Robles and Furminger, already complicit in a series of thefts, had been hoping for, Vargas told the U.S. District Court jury in his second and final day of testimony. "Hey, you guys, I found it," he said he told his two colleagues in the car before splitting up the money. Later, Vargas said, Furminger, their supervisor, submitted all three officers' names for official commendations by the Police Commission for their roles in the federal investigation. Vargas said the awards included official proclamations and ribbons for each officer's jacket. Vargas worked for the Police Department from 1999 until he was fired in May 2012 for falsifying time sheets. Originally indicted along with Robles and Furminger, he pleaded guilty Oct. 21 to stealing money and property, including the gift cards, and keeping them for personal use. He also admitted stealing drugs from crime scenes and giving them to two people the officers had been trying to recruit as informants. He agreed to cooperate in the prosecution, he said, because he was told that "based on my level of cooperation, there may be leniency" in sentencing.


Daily News
Lib-topia crushing children -- Cali GOP says nothing
Number of homeless children increases in Southern California
California accounts for one-fifth of the homeless children
The number of homeless children across the Golden State rose last year according to results of a national report released Monday, especially in hard-hit Southern California, home to the nation's second-largest school district. Researchers with the National Center on Family Homelessness found that nearly 2.5 million American children were homeless at some point in 2013. But the state by state report, called "America's Youngest Outcasts," showed that California was particularly troublesome because the state accounts for one-fifth of the homeless children. Nationally, from 2012 to 2013, the number of children experiencing homelessness in the U.S. rose by 8 percent. Of the more than a half a million enrolled, nearly 13,700 LAUSD students, mostly in middle and high schools, describe themselves as homeless, which could include living in cars or with others. San Bernardino County also has among the highest population of students who have experienced homelessness in the state, according to data released in September from the California Homeless Youth Project, an initiative of the California Research Bureau.



Sacramento Bee


Brown puts Perez on UC Board of Regents
Gov. Jerry Brown on Monday appointed former Assembly Speaker John A. Pérez to the University of California Board of Regents, as the board wrangles with a proposed tuition hike. The appointment came two days before the board is scheduled on Wednesday to consider a plan to raise tuition by as much as 5 percent annually over each of the next five years, a proposal Brown opposes. Pérez's appointment was one of two announced Monday. Brown also appointed Eloy Ortiz Oakley, superintendent-president of Long Beach City College, to the board. Like Brown, both Pérez and Oakley are Democrats. Pérez, 45, was described by Brown's office as "a longtime advocate for affordable higher education," including championing a program to reduce fees for students from certain middle-income families. The Los Angeles lawmaker himself attended UC Berkeley but did not graduate. He ran unsuccessfully for state controller this year. Pérez said in a prepared statement that he is "deeply honored" by the appointment. Oakley, 49, of Long Beach, has been the superintendent and president of Long Beach City College since 2007. Both appointments require Senate confirmation, and there is no compensation.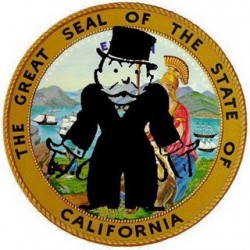 Sacramento Bee
California No. 1 in workers' compensation costs
Although Gov. Jerry Brown and the Legislature enacted a major overhaul of the system that compensates workers for job-related illnesses and injuries two years ago, aimed at reducing overhead and increasing disability payments, California employers have the nation's highest costs, a new survey says. The biennial survey found that California's workers' compensation costs, $3.48 per $100 of payroll on average, are 188 percent of the national median among the 50 states and the District of Columbia. That number pushed California from No. 3 in the 2012 survey to No. 1 this year, followed by Connecticut, New Jersey and New York. North Dakota was the lowest at just 88 cents per $100 of payroll. The 2012 reform reduced litigation and medical costs, but also increased payments to disabled workers. It maintained a once-a-decade pattern of major workers' compensation overhauls, reflecting the multi-billion-dollar system's complex political matrix, which includes not only employers, but labor unions, medical and physical therapy providers, insurers and attorneys who represent disabled workers in their claims.


San Francisco Chronicle


Another Indian casino scam...if casinos are so great, anyone should be able to build one


Indian tribes competing to build huge casino in Vallejo
The ink is barely dry on the rejection that California voters dealt in this month's election to an off-reservation tribal casino plan in the Central Valley, but already two similar proposals have popped up — right in the heart of the Bay Area. Two Pomo Indian bands are competing to build a casino on the long-closed Navy base of Mare Island in Vallejo, and they promise that if they get the go-ahead they will construct a gaming palace the likes of which the state has never seen. Between $10 million and $20 million will gush into the economically battered city's coffers every year, the tribes promise, thousands of jobs will be created, and what is now a wasteland on the closed base will blossom into a tourist magnet. Early plans show that the casino would rise on the northeastern tip of Mare Island, turning what is now a 157-acre stretch of weed-flecked asphalt and abandoned Navy buildings into a colorful playland of more than 3,000 slot machines and hotel rooms, shops, concert venues and high-end restaurants. Situated about 30 miles north of San Francisco, near Interstate 80 and alongside Highway 37, such a casino complex would be the biggest ever built in Northern California. Perhaps the biggest catch is the requirement that whichever tribe wins Vallejo's blessing must first have that tip of Mare Island federally designated as its land — meaning it would suddenly constitute a tiny sovereign Indian nation right on the waterfront of Vallejo. And that's a long leap, both physically and politically.


San Francisco Chronicle
SFO taxi protest causes gridlock, headaches


Cab drivers protest to maintain high prices, bad service


A taxi driver protest against ride services such as Uber and Lyft caused gridlock and a lot of headaches at San Francisco International Airport on Monday night, officials said. The cabbies wouldn't pick up riders and were blocking lanes starting about 9 p.m., SFO duty manager John Gintry said, and travelers reported long backups coming into and going out of the airport.
Signs were posted on many of the taxis reading, "This vehicle has full-time insurance, 'TNCs' (transportation network companies) do not!" Flyers were distributed among many of the cabbies by the San Francisco Taxi Workers Alliance with instructions for the protest, telling them to circle the terminals from about 9 to 11 p.m.


San Francisco Chronicle
#PoliceState Update: Man accused of aiming laser pointer at CHP copter
Authorities say a man was arrested after allegedly aiming a laser pointer at a California Highway Patrol helicopter engaged in a pursuit in the San Francisco Bay Area. The helicopter was flying over Richmond early Saturday pursuing a suspected car thief when the crew noticed the laser coming from the ground and alerted police. Richmond officers tracked down 48-year-old Kenneth Rumberger and took him into custody. Police Sgt. Nicole Abetkov says Rumberger was arrested on suspicion of pointing a laser at an aircraft, a felony. It wasn't immediately known if he has a lawyer.


Steven Greenhut
Same old UC plan: spend and hike tuition
Lt. Gov. Newsom slams university for its pay-boosting priorities
When Janet Napolitano was tapped by the University of California last year to run the state's premier university system, pundits opined she was an "unconventional" choice because the former Department of Homeland Security secretary and Arizona governor lacked an academic background. But she was the ultimate status-quo choice — an expert in keeping funding spigots open, but someone far less interested in budgetary reform. Sure enough, Napolitano's recently released five-year fiscal plan, which comes before the board of regents on Wednesday, calls for "more investment" from state taxpayers and students to bolster business as usual. It proposes a tuition increase of up to 5 percent for each of the next five years. The plan calls for new spending to "fund high-priority investments in educational quality, including reductions in the student-faculty ratio, increased course offerings and a shorter time to degree." A lot of the additional money also is going to shore up the system's underfunded pension and
health-care plans. As a result, not everyone is happy with the proposal. UC "cannot bestow pay raises on its top earners with one hand, while continually taking more from students and their families with the other and deflecting criticism by laying its solution at the door of the door of taxpayers," said Lt. Gov. Gavin Newsom, in a statement. "New funding must be tied to earnest and innovative attempts to reduce the university's cost structure … not threats that reward the status quo." (By the way, UC's chancellors earn $383,000 to $750,000 a year.) Newsom and Gov. Jerry Brown are reportedly upset the plan breaks a deal the university had with the state, which boosts funds to UC by 20 percent over several years in exchange for a tuition freeze. UC officials believe they are owed more. "The UC community says that its push for campus votes aided" the Proposition 30 tax increase, the Los Angeles Times reported. "It expected a bigger return … ." That begs the question: How well has the university managed its current budget? Rather than reform their benefits or embrace innovations and cost savings, UC officials have been seeking new ways to backfill a budget that suffered during the last recession. Tuition has doubled in the last decade — and UC relies more on out-of-state students, who pay triple the tuition of Californians. This is the same game universities (just like government agencies) have played for years. They lobby for more money, claiming a desperate need for more "investment" in vital education — but are less willing to embrace the kind of innovation and reform critics say is needed. This game of status quo is to be expected, but it's nice that ex-officio regents Newsom and Brown might not be eager to play along.


Los Angeles Times


Feds slam CDC morons again, order California to expand prison releases
Federal judges on Friday ordered California to launch a new parole program that could free more prisoners early, ruling the state had failed to fully implement an order last February intended to reduce unconstitutional crowding. The judges, for a second time, ordered that all nonviolent second-strike offenders be eligible for parole after serving half their sentence. They told corrections officials to submit new plans for that parole process by Dec. 1, and to implement them beginning January. "The record contains no evidence that defendants cannot implement the required parole process by that date, 11 months after they agreed to do so 'promptly,'" the judges wrote in Friday's order. Corrections department spokeswoman Deborah Hoffman said the agency would comply with the order.


Sacramento Bee


California officials ponder all-mail voting
When all the ballots are finally tallied from last week's election, the proportion of Californians voting by mail is expected to break the record set in 2012, the first time more than half of the state's electorate voted absentee. The uptick has more Californians pushing for the state to go all the way and ditch traditional polling places. Washington, Colorado and Oregon require all of their elections to be run entirely by mail, and at least 19 others permit some of their elections to be all mail, according to the National Conference of State Legislatures. County elections officials have touted the potential increase in voter interest and significant savings from avoiding the task of recruiting and training polling place workers. And some believe an all-mail system could even help speed up and avoid some overtime ballot-counting.


Sacramento Bee


The Gang the Can't Shoot Straight


State watchdog launches probe of California GOP spending
The state's political ethics watchdog has launched an investigation into whether the California Republican Party violated campaign finance rules in the Central Valley's 21st Assembly District. The complaint challenges the state party's ability to receive unlimited sums from Munger and use the money to make independent expenditures on behalf of Republican Jack Mobley and against Assemblyman Adam Gray, D-Merced. Gray won the race by 6 percentage points. Independent expenditures are allowed as long as parties and other committees making them don't coordinate with a candidate. While the ethics agency has fined campaigns and outside groups for illegal coordination in the past, this would be the first violation by a state political party organization. The complaint in Gray's district, filed by local Democratic activist Faye Lane, contends that the party and its chairman, Jim Brulte, were actively involved in the Mobley campaign, contributing phone-banking and other nonmonetary aid. "I think the only reason these were reported as independent expenditures is because they were funded by large contributions to CRP from a wealthy donor, Charles Munger," Lane wrote in the complaint. "He gave $2 million to (the party) starting September 29, and the IEs started right after that." A similar complaint was filed against the GOP in the 14th District race between Republican Sen. Andy Vidak of Hanford and Democrat Luis Chavez.


Mercury News
Attorney: CHP officer Sean Harrington victimized other women
Disgraced California Highway Patrol officer Sean Harrington victimized more women than he has been charged with, his attorney said Friday, minutes after Harrington pleaded not guilty in a nude photo scandal that has rocked the law enforcement agency. Harrington not only secretly forwarded racy cellphone photos on two female suspects' phones to himself, he also took pictures with his own phone of other arrestees' explicit phone photos, attorney Michael Rains said outside the courtroom in Martinez. The Contra Costa District Attorney's Office found that Harrington made 13 arrests of female suspects this year. Harrington, 35, of Martinez, did not speak to the media. He was joined by his wife in court as he entered the not guilty plea on two felony computer theft charges. In his interview with investigators, Harrington, who has resigned, called the photo stealing practice a "game" among CHP officers in Los Angeles and in his most recent position in the Dublin office. Harrington has admitted to his own actions, but has since downplayed the involvement of other officers and now says he only knew of "rumors" that others participated in such an activity.



San Francisco Examiner




How California water profiteers will make their next big killing


California details funding plan for twin tunnels
Customers of California's proposed twin-tunnel water project would have to make billions of dollars in fixed payments each year, even during dry periods when water levels run low, state officials said Friday. The information was provided as the state treasurer's office released a financing plan for the $25 billion Bay Delta Conservation Project and said it would only be feasible if water agencies adopted a set yearly payment plan. The tunnels at the heart of the contested project are designed to send water around the Sacramento-San Joaquin Delta to Central Valley farms and Southern California cities. The proposed pair of 40-foot-wide tunnels would reach depths of 150 feet below ground and run for 30 miles bypassing the delta. Some 25 million Californians rely on the delta, say state officials, noting it plays a vital role in the state economy. Water districts in Central and Southern California — such as the Metropolitan Water District, Westlands Water District and Kern Water District — have paid for much of the planning so far. Those agencies and their customers — not California taxpayers — would be responsible for billions of dollars in debt over 50 years, even in dry years, the study says.



San Francisco Examner


Los Angeles schools blame girl for sex


WTF!!! Teacher has sex with 14 year old student, then sues her, and wins!


The Los Angeles school district has come under criticism for successfully defending a sexual abuse lawsuit by saying a 14-year-old girl willingly had sex with her middle school math teacher. The teacher in the case, Elkis Hermida, was sentenced in 2011 to three years in prison for lewd acts against a child. The Los Angeles Unified School District claimed it was unaware of the relationship between the teacher and student and was cleared last year of wrongdoing by a civil jury in Los Angeles Superior Court. The girl was not awarded damages for the emotional trauma she said she suffered during a five-month relationship with the teacher. The case raises questions about a conflict between California criminal and civil law when it comes to sexual consent. Wyatt had cited a federal court decision that said a minor could consent to sex in some circumstances. Lawyers and advocates for sexual abuse victims said the legal tactic was appalling. "The belief that middle school children can consent to sexual activity is something one would expect to hear from pedophile advocates, not the second-largest school district in the U.S.," attorney John Manly told the Los Angeles Times. In defending his tactics, Wyatt further came under fire for telling the public radio station that it takes maturity to decide to cross the street and that's more dangerous than deciding to have sex with a teacher.

Los Angeles Times
After executing Christopher Dorner @LAPD corruption continues unchecked
LAPD survey in wake of Dorner rampage finds bias complaints
A Los Angeles Police Department review of its discipline system prompted by the Christopher Dorner rampage found widespread concerns among officers and civilians that the agency discriminates based on gender, ethnicity and rank, according to a report reviewed by The Times. Focus group sessions held with more than 500 department employees found that many of those interviewed believed internal investigations were unfair and that punishments were subjective, the document said. Among the complaints were that the department overlooks misconduct by high-ranking officials, that discipline is influenced by public and media pressures and that nepotism infects the disciplinary process. Weeks after Dorner died during a siege at a mountain cabin, where he was holed up, officers continued to complain that discipline in the LAPD was uneven and unfair.


San Francisco Chronicle


#PoliceState Update: Police surveillance grows without public input
At least 90 police agencies in California use surveillance tools such as cameras, license plate scanners and facial recognition software. But in launching new technologies, government agencies have sought public input just 14 percent of the time, the American Civil Liberties Union said in a report released Wednesday. The report, based on public records and news reports, provides a look at gadgets that are changing policing in fundamental ways, including cell phone trackers, wearable cameras that police turn on to record interactions, and drones. The ACLU said agencies had spent more than $65 million on at least 180 surveillance technology programs around the state. But only 26 of the programs were brought up for public discussion, and only 32 came with publicly available policies governing their use, according to the report. Law enforcement agencies have long pushed for the adoption of surveillance technologies that they say can keep people safer. A license plate scanner mounted to a patrol car, for example, can read thousands of plates a day, sounding an alarm when it comes across a vehicle that is stolen or wanted. But opponents say high-tech devices often aren't worth their high cost in taxpayer dollars and privacy. License plate data is typically fed into a database — one that includes a wealth of information on the movements of law-abiding citizens as well as car thieves. The issue of transparency around surveillance technology came to a head this year when the San Jose Police Department quietly bought a drone, sidestepping public discussion by introducing the purchase as a consent calendar item to gain City Council approval. Police officials later released a statement promising not to deploy the device until the department does community outreach and develops a policy.


Mercury News


CHP continues to cover up crooked cops


CHP nude photo scandal: Why were no other officers charged?
They've arrested the cop who stole racy photos from female arrestees' cell phones, but prosecutors say there's not enough evidence to support charges against two California Highway Patrol officers who received photos from former Officer Sean Harrington, even though the officers exchanged texts about the women. The decision to forgo charges against the other officers has shocked some in the legal community, including an attorney representing one of the victims. The key question: Were the two other officers part of a "conspiracy" to commit theft, or unwitting recipients of racy photos? "It is important to note that Harrington unambiguously stated in his initial confession that this illegal and predatory conduct not only occurred while assigned to L.A., but that it was an established practice in the Dublin office with sworn CHP officers and non-CHP individuals," said Danville attorney Rick Madsen who represents an alleged victim. "In my opinion, Officers (Robert) Hazelwood and (Dion) Simmons, and anyone else involved, are part and parcel of this criminal conspiracy." According to his attorney Michael Rains, Harrington, 35, of Martinez, is scheduled to appear in court and plead not guilty Friday on two felony charges for secretly searching two young female DUI suspects' phones during separate August arrests and stealing copies of their explicit photos. Harrington, who resigned on Oct. 29, has admitted to the crimes and apologized through his attorney, and is attempting to work out a future plea deal with the prosecutor and the judge. He is still being investigated over a complaint by a third woman who was also arrested in August for a DUI. It is not clear what action the CHP may have taken against the officers. Other than Harrington, the CHP has said it disciplined one other unnamed officer by pulling him from patrol duties. Inquiries to the CHP on possible further discipline were not returned. But if Harrington sent the photos to his colleagues with information indicating they were taken from unsuspecting female suspects, why were the other officers not charged?


Mercury News


NFL's war against domestic violence victims continues


Ray McDonald's parents slam San Jose police for starting 'lynch mob' against 49ers player
Now that prosecutors have declined to charge 49ers defensive lineman Ray McDonald over his domestic violence arrest, citing lack of evidence, his parents are slamming the San Jose Police Department for starting a "lynch mob" against the player. In a statement offered to this newspaper Thursday, LaBrina and Ray McDonald Sr. say police should not have announced after the arrest that the alleged victim in the case had "visible injuries," calling it "damaging and misleading." "This basically led the public to believe that he hit or attacked her," McDonald's parents said. "The fact that no additional information was given in this press release, in our opinion was very irresponsible and leads us to question the integrity of the ranking individuals that approved this press release." The statement continued: "When dealing with a law enforcement agency, we expect transparency and honesty and not parsed information to favor a flawed arrest." The police department had previously been criticized by media groups and others for releasing very little information in the wake of the Aug. 31 arrest at McDonald's San Jose home. Only on Monday did the Santa Clara County District Attorney's Office provide information beyond the "visible injuries" detail as part of their decision not to file charges, saying the alleged victim had been uncooperative and authorities weren't sure what happened.


Sacramento Bee




California GOP's ship continues to flounder


Bera surges ahead of Ose in close race
Freshman Democratic Rep. Ami Bera has captured the lead over Republican Doug Ose in the expensive and closely watched race for suburban Sacramento's 7th Congressional District. Bera surged ahead of Ose by 711 votes, 87,643 to 86,932, in the most recent vote totals announced Wednesday afternoon. Ose's lead had stood at 3,011 votes on election night, falling to 2,183 last Thursday and just 530 on Monday, when county elections officials announced that 33,000 ballots remained uncounted. The outcome of the contest now hinges on an estimated 10,000 countywide mail ballots and more than 9,000 additional provisional ballots, officials said. "This race is not going to be fully counted for up to another week," said Alice Jarboe, the assistant registrar of voters for Sacramento County. The next update is Friday, but Jarboe said that release is not expected to include any of the provisional ballots, which could take as long as a half-hour each to research and dispense of. Bera has been upbeat about his chances of securing a second term in Congress, noting that two years ago it took nine days to determine he had unseated then-Rep. Dan Lungren, a Republican from Gold River. Both Bera and Ose were in Washington on Wednesday, Bera for House business and Ose for meetings. "On Election Day, I said that I was confident we'd win this election, and I'm encouraged by the numbers released today," Bera said in a prepared statement. "We need to let the registrar continue to count the remaining ballots, and we're excited to see what the final margin will be."


San Francisco Chronicle
#PoliceState Update: San Francisco police corruption trial
A drug dealer and police informant, testifying in the trial of two San Francisco police officers, said Thursday that Officer Edmond Robles paid him in cash and crystal methamphetamine the first time he turned in a fellow dealer, and told him he could sell narcotics with impunity as long as he kept cooperating. "He told me, 'You want to sell drugs, you can sell drugs.' I can do whatever I want, but don't kill nobody," Cesar Hernandez told a U.S. District Court jury in the trial of Robles and Sgt. Ian Furminger. The officers, who worked at Mission Station, are charged with stealing drugs and money that was seized from criminal suspects and should have been turned over to the Police Department as evidence. Hernandez said he started in the drug trade by wrapping bundles of marijuana as an 8-year-old in Mexico and was brought to the United States by a heroin dealer at about age 12. He said he eventually became a middleman in San Francisco's Mission District, arranging deals between buyers and sellers, after serving time in juvenile hall and state prison. He said Robles and another officer knocked on the door of his cheap hotel room one morning in 2009, barged in, tore his belongings apart and told him he was in trouble unless he started working with them. On one occasion, Hernandez said, he led Robles to a major heroin dealer, and the officer told him to buy the drugs on credit and sell them himself. Hernandez said he wasn't able to sell all of the heroin and gave some of it to Robles, who supplied additional cash to repay the dealer.



Los Angeles Times




Just like UC, Cal State continues to screw students and taxpayers


Cal State trustees OK $269-million budget, pay raises for top execs
California State University trustees approved a new budget Thursday for the 23-campus system, but acknowledged that it is unlikely to receive sufficient state funding to enroll all eligible students. The 2015-16 budget request of $269 million includes $216.6 million in state funding. That is far more than the $119.5 million proposed in Gov. Jerry Brown's spending plan. Unlike the University of California system, Cal State is not considering system-wide tuition hikes. Cal State's budget request includes $103.2 million to enroll an additional 12,000 students. Brown's plan, by contrast, would allow an additional 3,500 students. The trustees also voted for 3% pay increases for its top executives, including Chancellor Timothy P. White and the 23 campus presidents, saying that such a boost was necessary after seven years without pay raises. White noted the state's historical role in funding the greatest share of education costs, saying that role has changed and that the university must face different realities. "If we don't have the courage to take this on, we'll manage through, but we won't be serving the students we need to serve," White said. One example of a new approach, he suggested, would be to charge higher tuition — similar to what out-of-state students pay — to those with excessive credits as an incentive to graduate sooner.


Los Angeles Times
California can't challenge ruling on concealed guns, court says
A huge blow to the Police State: A big win for gun nuts
Relaxed rules for carrying concealed guns in public may not be challenged by California state officials or advocacy groups, a federal appeals panel decided Wednesday. The decision was another victory for gun rights advocates, but it was not likely to be the last word. The state has the right to appeal Wednesday's order and legal analysts expect the state to do so. There is another pending gun case involving the right to carry concealed weapons in California and a ruling in that case could resolve the debate. In its 2-1 ruling Wednesday, the U.S. 9th Circuit Court of Appeals denied an attempt by Atty. Gen. Kamala D. Harris, a gun control group and law enforcement associations to intervene in a case that struck down San Diego County's policy of tightly restricting the carrying of concealed guns. Gun owner Edward Peruta was the lead challenger of the San Diego rules. State law allows county law enforcement agencies to set rules that limit permits for concealed guns. The 9th Circuit panel that ruled Wednesday decided on the same split vote in February that San Diego County's policy requiring law-abiding gun owners to show a specific need for protection violated the 2nd Amendment's guarantee of the right to bear arms. Though the pro-gun ruling technically applied only to San Diego, it is being cited as a precedent in other gun challenges and some California counties have already chosen to follow it. San Diego and Orange counties relaxed their rules after the ruling and issued scores of permits to carry concealed guns in public. Harris and the other groups decided to intervene after San Diego County Sheriff William D. Gore refused to appeal the 9th Circuit's decision.


Sacramento Bee




Finding more ways to excuse police brutality


CHP chief wants more mental health training for officers
Joe Farrow had it right Wednesday morning when he said, "Everybody in this room knows we have an issue to work on. A big issue." The CHP commissioner uttered those words before kicking off a five-hour meeting to talk about mental-health training for police. More then 100 experts and advocates, lawmakers and legislative staff, public health officials, family members and police officers from around the state gathered at the patrol's North Sacramento headquarters. It's not a coincidence that Farrow wants CHP to take the lead. Last July, a motorist shot video of CHP Officer Daniel Andrew straddling 51-year-old Marlene Pinnock on the ground and repeatedly striking her. The pictures of a young white officer beating a mentally confused African American grandmother grabbed national attention. Farrow shuttled back and forth from Sacramento to Southern California to make amends with local politicians and civil-rights activists. He didn't hide his embarrassment. He apologized. He promised to investigate. He vowed to change how his officers deal with the mentally ill. The CHP settled with Pinnock for $1.5 million and Andrew's resignation. He could still face criminal charges.


Los Angeles Times


Every Citizen the Enemy: LAPD's executions of the mentally ill continue to go un-punished


South L.A. frustrated by LAPD's lack of transparency in 2 fatal events
Three months after police fatally shot a mentally ill man in South Los Angeles, key questions remain about what led to the controversial shooting and exactly how the 25-year-old was killed. Los Angeles Police Department officials have yet to allow the county coroner's office to publicly release the results of an autopsy on Ezell Ford Jr. following his Aug. 11 death, and have not explained why gang officers approached Ford before the shooting. Some South L.A. residents say they are frustrated by how little information has been disclosed and accuse the department of failing to make good on Chief Charlie Beck's promise of transparency after the killing. Last month, the South Central Neighborhood Council unanimously passed a resolution urging Councilman Curren Price to direct the LAPD to release Ford's autopsy report. "Every day that goes by where the secrecy is maintained just increases the frustration," said Cliff Smith, a member of the nine-person Neighborhood Council who introduced the resolution. "There's no way to resolve this except to be transparent. And the police have been the opposite of transparent."


Mercury News
Racketeering case against state Sen. Leland Yee put on fast track to trial
A federal judge has put the racketeering and political corruption case against suspended state Sen. Leland Yee on a fast track to trial. Doing some pre-Thanksgiving carving of the government's sprawling indictment against Yee and 28 other defendants, U.S. District Judge Charles Breyer on Wednesday set a timetable for a trial early next year that focuses solely on the political corruption charges against the disgraced Democratic legislator and a handful of cohorts linked to his alleged wrongdoing. Given that most of the defendants in the case are accused in a separate racketeering charge connected to reputed Asian organized crime figure Raymond "Shrimp Boy" Chow and his Chee Kung Tong organization, Breyer decided it would be more efficient to break off the influence-peddling part of the case. That first trial would focus on Yee, San Francisco political consultant Keith Jackson and perhaps a few others involved in the alleged bribery schemes. Federal prosecutors also are expected to include other pending charges in such a trial aside from racketeering, including gun trafficking charges against Yee and a murder-for-hire charge against Jackson unrelated to the state lawmaker. "I'm not going to let it play out in some multi-year, decade-long tableau," Breyer told a courtroom full of lawyers. The judge did not set a firm date for trial, other than to say he believes it can be held "in relatively short order." It remains to be seen how quickly a trial date arrives, in light of the defense lawyers' plan to ask the court to toss out the thousands of hours of wiretapped conversations at the heart of the FBI's four-year probe of Chow, Yee and others. But the judge's timeline will add pressure on Yee and the other defendants to decide whether to cut a deal or take a chance with a jury.


San Francisco Examiner
Nurses continue to try and squeeze more money from Ebola scam
Kaiser nurses strike over patient-safety standards, Ebola preparedness
Dozens of nurses picket outside the Kaiser hospital on Geary Boulevard on Tuesday. The nurses are striking for two days due to concerns that patient care is suffering.
Hundreds of nurses and nurse practitioners picketed in front of Kaiser Permanente San Francisco Medical Center on Tuesday as part of a two-day strike at nearly 90 Northern California facilities over patient-care standards and Ebola preparedness. Kaiser and the California Nurses Association on Tuesday sparred over how the ongoing dispute has been presented to the public. Kaiser officials said the strike lacked a clear focus, criticizing the union for appearing to switch its message from a concern over a lack of Ebola precautions to more general complaints that understaffing and cuts have made it more difficult for nurses to care for patients. Nurses on Tuesday insisted that the strike's function was to highlight eroding patient-care conditions, and those included concerns over their ability to adequately care for potential Ebola patients at local hospitals.


San Francisco Examiner


Legislators seek to lift ban on utilities owning electric-car charging stations
Two California utility companies are requesting permission to enter the electric-vehicle charging station business, and a group of legislators including state Assemblyman Richard Gordon, D-Menlo Park, have recommended that the California Public Utilities Commission pave the way for such a move by lifting a 2011 ban prohibiting investor-owned utilities from owning EV-charging infrastructure. The CPUC is expected to make a decision this month on whether to lift the ban, which was originally enacted to protect competition in the emerging EV charging station market. Avoiding "unintended consequences" that could stifle competition is paramount, according to Gordon, who said the lawmakers have asked the commission to allow utilities to enter the charging business, but also enact rules preventing those utilities from exerting monopolistic control over the market. Peninsula and Silicon Valley lawmakers joining Gordon in the request include Assembly members Kevin Mullin, D-South San Francisco, Nora Campos, D-San Jose, and Robert Wieckowski, D-Fremont. State Sen. Jerry Hill, D-San Mateo, is also on board, as are numerous Assembly members throughout the state. The elected officials' show of support comes after two utilities -- San Diego Gas and Electric, and Southern California Edison -- submitted filings indicating their desire to build $500 million worth of charging infrastructure. ChargePoint CEO Pasquale Romano hailed the filings.


San Francisco Examiner
Now that he's off the hook, 49ers' McDonald ready to move forward


After getting a free pass from the Santa Clara County D.A., 49ers' McDonald spins "I'm really a good guy" b.s.


49ers defensive lineman Ray McDonald seeks to restore his relationship with his fiancee as well as resume his football career. "I have no malice toward anyone," McDonald said Tuesday, a day after the Santa Clara County district attorney's office announced it declined to file charges against him in an investigation stemming from his Aug. 31 arrest. "I feel like I'm a good guy, a teddy bear." McDonald said he's ready to move forward after spending weeks having his focus divided between football and his off-field activities. McDonald has played all season despite pressure on the 49ers to not play him. He has 24 tackles, 15 solo, while starting all nine games for the 49ers (5-4), who travel to play the New York Giants on Sunday. "I want to move past it and focus on the game this week," he said. "My team had faith in me. My friends, family and coaches all know what kind of guy I am." McDonald and his fiancee remain together and are working to strengthen their relationship. 49ers coach Jim Harbaugh said at the time that public pressure wouldn't affect how the team handled McDonald's situation. An eight-year NFL veteran, McDonald has been a key member of one of the NFL's top defenses.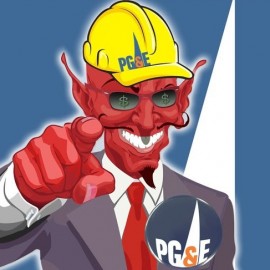 Thomas D. Elias
Utilities' plan would raise rates for small users
PG&E is out to screw you again
A strong spotlight shines these days on the state Public Utilities Commission as it gets set to rule on how much the state's biggest utilities will have to pay for their sometimes fatal blunders and how much consumers will be soaked for the negligence of utility executives. As much as $8 billion over the next decade rides on decisions of the five-member commission, about to rule on the 2010 PG&E gas pipeline explosion that killed eight and destroyed dozens of homes in San Bruno and on the Southern California Edison decisions that caused the premature shutdown of the San Onofre Nuclear Generating Station. These are critical cases, but no matter what the commission rules on them, the average electric bill won't rise by more than a dollar or two per month. A much bigger increase rides on another issue now under much quieter consideration by the same commission, which has for decades favored big companies over small utility customers. The seemingly arcane question to be decided sometime soon is how many rate tiers should appear on the typical California electricity bill. Tiers have a lot to do with how much customers pay for power, as for decades the rule has been that the more you use, the more you pay for each kilowatt hour. Now the commission is about to consider a plan by PG&E to cut the number of rate tiers from four to two, a move sure to raise the rates of low-usage customers and lower what's paid by factories, office buildings and other large power users.


San Francisco Chronicle


Chronicle, police, spin Potrero Hill shooting story...residents furious
Community members packed Potrero Hill Neighborhood House for the meeting, and called for Suhr to release surveillance video that supports the officers' narrative of that night. Others voiced anger at the number of officer-involved shootings in Potrero Hill. "The message should be that there are a certain amount of guns in Potrero Hill," Suhr said. "If you come across a police officer, the best thing to do is to drop the gun so that the police officer won't ever have to make that decision." Patty Jaundzems, 71, pointed out that her brother, Dale Wilkerson, did not have a gun when police shot and killed him in April 2013. Wilkerson, 60, was a suspect in a stabbing when he allegedly charged police with a hammer on the 900 block of De Haro Street. "I would really like them to change their policy of shoot to stop," his sister said. "Why can't they shoot to disable?" Meanwhile, Seymour's girlfriend, Monica DuPass, 34, rejected Suhr's account of what happened Thursday night and said police have been harassing him "for the longest time." Seymour had been involved with drugs, but he had quit — and he definitely doesn't carry guns, she said. "I feel like it's a bunch of crap," she said. As is department policy, Ochoa was placed on paid administrative leave. The district attorney's office will investigate the shooting, as will internal affairs.


San Francisco Chronicle
San Francisco police corruption trial begins in federal court


It may be impossible to find an honest cop in San Francisco


A federal prosecutor opened the trial of two San Francisco police officers Monday by telling jurors the case was about "corruption with a badge." Assistant U.S. Attorney Rodney Villazor said Vargas and other witnesses would describe a series of thefts of money, drugs and other property from criminal suspects by the three officers, who worked in the plainclothes unit at the Mission Station. In a May 2009, during a search of a home in Newark, where the officers were assisting the U.S. Drug Enforcement Administration, Villazor said, Vargas found a shovel in the backyard, dug up $30,000 in cash and split it with Furminger and Robles. The next day, the prosecutor said, Robles deposited $6,000 in his bank account. "That's what this case is about, a cop stealing money," the prosecutor said. He said the items police seize during searches belong in evidence lockers, "not in their bank accounts."


San Francisco Examiner
No charges against 49ers' Ray McDonald...NFL/Santa Clara DA look the other way
The Santa Clara County district attorney's office declined to file charges against San Francisco 49ers defensive lineman Ray McDonald in a domestic violence investigation stemming from his Aug. 31 arrest. Prosecutors said in a release Monday that they were unable to charge McDonald because of conflicting versions of what happened, a lack of verifiable eyewitnesses and a lack of cooperation by the alleged victim, McDonald's fiancee. "All domestic violence complaints deserve our concern, sensitivity and careful review," District Attorney Jeff Rosen said in the release. "After our thorough review of all the facts, we do not have evidence sufficient to convince a jury beyond a reasonable doubt that Mr. McDonald committed a crime" against his fiancee. The DA's statement said no one was left with "significant injuries." McDonald has played all season despite outside pressure on the 49ers to bench him. He has 24 tackles, 15 of those solo, while starting all nine games for the 49ers (5-4). The arrest came only days after NFL Commissioner Roger Goodell announced stiffer penalties for players accused of domestic violence, including a six-week suspension for a first offense and at least a year for a second. That move followed scrutiny over former Baltimore Ravens running back Ray Rice's two-game penalty stemming from his arrest on an assault charge in February.


Oakland Tribune


In California, the chemical industry is simply unsafe


U.S. Chemical Safety Board calls for more stringent regulation of California oil refineries
The U.S. Chemical Safety Board calls for substantial changes in the way oil refineries are regulated in California in its final regulatory report on the August 2012 fire at Chevron's refinery here. The report, released late Monday, calls on the state "to enhance its process safety management regulations for petroleum refineries to ensure a more robust and adaptive regulatory regime." The regulatory report is the second of three in the federal agency's investigation into the crude-unit fire that endangered 19 workers and sent more than 15,000 area residents to the hospital. The fire was sparked when a corroded 52-inch-long carbon steel piping component ruptured. The goal of reducing risks to a specified target reflects principles that have been adopted in the refinery and chemical industries in Europe and Australia, as well as the nuclear and space sectors in the United States, C.S.B. investigator Amanda Johnson said in a news release announcing the report. The Chemical Safety Board's news release noted that in September, the state Division of Occupational Safety and Health (Cal/OSHA) released draft regulations for refinery safety that include a number of more rigorous requirements. "California's draft regulations address numerous issues raised in the C.S.B. regulatory report, and the C.S.B. will be monitoring the California rule-making process closely to see if those provisions remain in the final rule," C.S.B. Chairman Rafael Moure-Eraso said in the release.
Dan Walters


What really motivated cuts to California's Senate?
Kevin de León, the state Senate's newly minted president pro tem, says that eliminating dozens of legislative staff positions, many by layoffs, was "difficult but fiscally necessary." He and his minions say that a squeeze developed when the Senate's allocation of tax money was virtually frozen for one year under a complex formula adopted by voters 24 years ago. "These were agonizing decisions, but they were unavoidable and made in the public interest," de León said in a statement. "This Senate bears an ultimate responsibility to our constituents and to California taxpayers to live within our fiscal means, even when it means doing more with less." Few Californians will shed tears about legislative staffers losing their jobs. After all, they are "at will" workers exempt from civil service protections that other public employees enjoy, and the appearance of frugality aligns de León with the public's mood, as Gov. Jerry Brown has demonstrated. Notwithstanding all of that, those in and around the Capitol are wondering, with good reason, whether the Senate's squeeze is as severe as de León would have us believe, or is just a convenient rationale for political housecleaning.



Daily News


Obama immigration action must spur Congress to broader action
Action of any kind is long overdue. The nation's immigration laws satisfy nobody. Congress, which should be debating and voting on reforms, is mired in politics and fear of the public emotion on both sides. While Republicans and Democrats bluster over the actions' political implications, Americans of all schools of thought on immigration must insist that the debate stick to substance. Done right, immigration reform will boost the economy by bringing the nation more high- and low-skilled workers, giving business more freedom to hire them, and creating more consumer spending. California would be one of the main beneficiaries because of the importance of the state's agricultural and tech industries. To look at it another way, actually following through on deporting all of the undocumented immigrants working in California how would devastate the economy.



Steven Greenhut


Second Amendment supporters file First Amendment lawsuit
In a 1964 U.S. Supreme Court case involving a movie-theater owner convicted of an Ohio law banning the showing of obscene movies, Justice Potter Stewart famously said he could not "intelligibly" define obscenity, "but I know it when I see it." People still use that line to showcase the imprecision and irrationality of many laws.



Dan Walters


Big pension gap won't vanish soon
State Controller John Chiang performed an admirable public service by publishing a detailed report on the finances of California's public employee pension systems. The most eye-popping fact in the report is that the "unfunded liabilities" of those systems exploded from $6.3 billion in 2003 to $198.2 billion in 2013. Why? It was a perfect storm of irresponsibility.



Daily News


UC tuition hikes don't look good next to big raises for chancellors
If you have a high school senior who's thinking of going to a University of California campus to study public relations, you might want to gently switch his or her plans to the backup college. For one thing, UC tuition is high and just might rise some more this week. For another, clearly the UCs have a terrible grasp of public relations. We maintain that you can't give yourselves big raises and then claim the little people need to pay more. It's true that the UCs need more state support, and we'd like to see the system get more as soon as possible. But ticking off your client base and the state's top elected officials is not the best way to get there.



Steven Greenhut


Surveillance is sneaking its way into cities
Perhaps people feel powerless to confront federal programs. But a new effort hopes to empower them to confront local authorities who embrace similar technologies by prompting cities and counties to pass an ordinance requiring a public debate and oversight of any such new technologies. In a democratic society, shouldn't the public have a chance to debate these policies publicly before officials enact them? Unfortunately, that's not always happening.



Steven Greenhut


Gov. Brown details a 'paradoxical' agenda


For next term, he vows to put foot on brake and other one on accelerator


Deprived of a hotly contested gubernatorial election race filled with debates and campaign ads, California voters were deprived of a vigorous discussion about how the next governor would lead the state in the coming four years. There was never any doubt Gov. Jerry Brown would win an unprecedented fourth term. There has been significant debate about what, exactly, is he going to do with it.



Los Angeles Times


Prop. 47 is a first step in revising stance on crime
In adopting Proposition 47 by a huge margin, Californians made a statement about the tough-on-crime policies of the last generation that increased prison costs and populations many times over while too often accelerating, rather than reversing, the descent of offenders and often whole communities into cycles of crime and victimization, incarceration and recidivism. Voters made a statement as well about the degree to which drug use and possession had resulted in unnecessarily long prison terms. They called for a new approach.



Erica Etelson


Next PUC chief must be independent advocate for clean energy
Gov. Jerry Brown will soon appoint a new president of the California Public Utilities Commission to replace Michael Peevey. Brown should seek a successor who has no entanglements with PG&E or other electric utilities, and who will help California become the global leader of a 21st-century clean-energy future. The PUC can no longer cater to monopoly utilities invested in an antiquated, fossil-fuel and nuclear-intensive business model that puts profits above clean air, community safety and the creation of green jobs. Peevey is a former president of one of those utilities, Southern California Edison, and his litany of misdeeds illustrates why a fox can never be entrusted to guard the henhouse.



Doug McIntyre


Democracy has been canceled due to complete lack of interest
During the turbulent 1960s, anti-war protesters made famous the slogan, "Suppose they gave a war and nobody came?" Based on Tuesday's low voter turnout, the 2014 version might read: "Suppose they gave an election and nobody came?" Los Angeles County is the nation's largest with a population north of 10 million. Of those 10 million, 4,897,915 are registered voters. Of those 4.9 million, only 1,211,243 bothered to cast a ballot. On any given day in L.A. you can get more people than that to show up for a Pilates class. Granted, there wasn't a lot to get worked up about this go round. Neither party managed to gin up a hot-button issue to drive the base to the polls and the headline attraction was Jerry Brown, again, versus a guy nobody ever heard of and most couldn't pick out of a police lineup. So L.A. County voters found something else to do on Election Day. It's not from lack of trying.



Steven Greenhut


Plan removes cabbies' economic shackles


San Diego plan to lift cap on taxi permits would help industry compete with Uber


After the Civil War, newly freed slaves and poor whites in the Deep South often became "sharecroppers" who farmed land owned by others and paid a share of the crops. Barely able to eke out a living and unable to buy farms, they became indebted to the owners and locked into a life of poverty. It sounds strange at first, but San Diego's taxicab system — like such systems elsewhere – has parallels to that antiquated economic model. The debate is not simply between the 11 percent who own their cabs and have paid oftentimes exorbitant prices for the permits against the 89 percent who may want to be their own bosses. It's a big matter for consumers and the local economy, too. So it's worth looking at the results in other cities that have taken this approach.



Steven Greenhut


Bankruptcy ruling not as bad as it looks


Stockton punts, but other cities are free to tackle pensions


When it comes to pension reform, I've long been a pessimist given the realities in the Capitol and courts. A federal judge's decision in part two of the Stockton bankruptcy case on Thursday, approving an exit plan that doesn't chip away at the city's looming pension debt, at first seems to warrant even more negativism. But it's probably not as bad as it seems for those who want these municipal debts tamed so that public services can be restored and residents aren't stuck with escalating tax burdens. Sure, Stockton officials chose not to reduce pensions, but other cities are free to address them in the future, thanks to the first part of the decision the judge issued early this month. Reformers had pinned their hopes on municipal bankruptcy – not because they want cities to go belly up, but because it would provide a day of reckoning. If pensions aren't safe in bankruptcy, that would give public-sector unions an incentive to support reforms to help keep their localities out of bankruptcy court.



Charlotte Lytton


The best response to this year's most offensive Halloween costumes
Halloween: formerly a holiday for exercising your pumpkin-based creativity, bonding with your peculiarly dressed pals and, most importantly, getting a boatload of free candy, is not-so-slowly cementing its status as a race to the bottom. From sexy Ebola nurses to gun-toting jihadis, the people of the Internet have truly outdone themselves this year with wildly inappropriate and offensive costumes.



Dan Walters


L.A., Ontario squabbling over airport
Ontario International Airport opened two large, modernistic terminals in the late 1990s to improve service in California's fast-growing "Inland Empire" of San Bernardino and Riverside counties, replacing shabby facilities that would have embarrassed a Third World country. A high-speed rail connection between San Diego and Ontario along Interstate 15 could solve the problems of both airports. It would be a bullet train worth doing, unlike Gov. Jerry Brown's $68 billion fantasy.



Steven Greenhut


California receives the Pension Death Penalty
The people who benefit from CalPERS have complete control over it. Those who pay the tab have little if any say. Six of the board seats are set aside for various groups of CalPERS "members"—for example, one for retirees who receive pensions, one for eligible current state employees, and so on. Then there are three members appointed by the governor and the legislature, both of which are wholly owned subsidiaries of California's public-sector unions.



Daily News




The abuse of authority raises basic privacy issues


CHP photo scandal requires independent investigation
Maybe it's true that the "game" of trading nude photos taken from the cellphones of women arrested for drunken driving never went beyond the California Highway Patrol's East Bay office. Maybe officers don't talk to one another about things like that. Of course, a similar incident occurred in Los Angeles two years ago — but hey, that must just be a coincidence. Really? Unlike Golden Gate Division Chief Avery Browne, we're not satisfied with the internal CHP investigation that quickly determined the despicable and apparently illegal practice is contained to the Dublin office. Contra Costa County prosecutors agree with Browne, but a county district attorney lacks statewide capacity to investigate. An independent investigation is needed, and quickly. Wagons already must be circling at CHP offices and perhaps other police departments throughout the state.



Doug McIntyre


Immigration policies a ticking time bomb
As it turns out I was wrong. Our immigration policies do split up families. Last Friday, a twice-deported undocumented immigrant named Luis Monroy Bracamonte allegedly murdered Sacramento County sheriff's Deputy Danny Oliver with a shot to the head in a Motel 6 parking lot in Northern California. Shortly thereafter Monroy Bracamonte, aka Marcelo Marquez (and possibly multiple other identities), allegedly murdered Placer County Sheriff Detective Michael David Davis Jr. Oliver and Davis were husbands and fathers, sons and brothers. Because of our unwillingness to enforce our own immigration laws their families will never see Danny or Michael again.



Steven Greenhut


Department of Justice using "its overwhelming litigation might" as "a tool of extortion"
Liberals often complain about the greed of profit-seeking corporations, while conservatives likewise complain about abuses by government officials. Both sides might take notice of something that seems to epitomize the worst of both worlds — government agencies that use their power to bolster their own budgets.



Dan Walters


Decades-old mistake is at the root of California's Prop. 46
Proponents and opponents of Proposition 46 are bombarding California voters with tens of millions of dollars in television spots and other propaganda – probably because of a tactical political mistake 39 years ago. The measure, if enacted, would do several things, but its major effect would be to more than quadruple the $250,000 cap on noneconomic damages in medical malpractice cases, often dubbed "pain and suffering," and increase it for inflation in the future. Doctors, hospitals and other elements of the medical industry have committed more than $50 million to defeating the measure, while advocates, led by personal injury lawyers, are spending perhaps a fifth as much to pass it. The increase from $250,000 to $1.1 million reflects inflation since 1975, when the Medical Injury Compensation Reform Act (MICRA) was enacted by the Legislature and Gov. Jerry Brown, during his first year as governor. It responded to what doctors and hospitals said was a ruinous escalation of malpractice insurance premiums.



Dan Walters


California Legislature's partisan balance a big question
With Election Day just a week away and mailed ballots already pouring into election offices, California's biggest political unknown is the balance of power in the Legislature. Democrats certainly will retain big legislative majorities, but it's uncertain whether they will be the two-thirds "supermajorities" the party won in 2012. Whether the supermajorities return or not won't have much practical effect on what happens in the Legislature.



Steven Greenhut


Ebola scare: Nurses' group slams hospitals, but tagged with hypocrisy for opposing flu bill
Iit's hard to evaluate these events — the press conferences with signs picturing nurses in full-protective gear and DeMoro calling for hospital CEOs to be marched in front of sickly people where they can be sneezed on — outside the world of public relations, politics and union organizing. Hospitals should do all they can to protect nurses and the public. I get it completely, especially as the father of a nurse working in a big hospital. But medical advances rarely come from grandstanding.



Doug McIntyre


We need a 'fear czar' to calm a nervous nation
It's the scary season with Halloween just around the corner and right after that Election Day. Of course this is the golden age of fear where everything is out to get us despite our living longer and better than at any point in human history. The latest epidemic of hysteria began with two American aid workers contracting the Ebola virus while doing God's work in Liberia. CNN was first to jump on it, broadcasting every hazmat suit clad step taken by Dr. Kent Brantly and Nancy Writebol as they made their way home to a miraculous recovery at Emory University Hospital in Atlanta.



Dan Walters


Prop. 48 is new episode in California's long-running Indian saga
The multibillion-dollar casino gambling monopoly that Indian tribes enjoy is one of California's most remarkable cultural and political sagas – and it's not over yet.



Dan Walters


Record low voter turnout looms in California
California, which set a record for low participation in June's primary election, will likely set another low mark for a general election in November.



Dan Walters


Jerry Brown has two paths for 4th term
If Brown intends to spend political capital on difficult, long-festering governance issues, he deserves four more years. If he intends, however, to merely check a few more items off his bucket list, that's another story.



Steven Greenhut


Decision puts rail 'caboose before engine'


High court won't consider appeal, lets high-speed rail authority float bonds


If the rail authority can move forward with such an enormous project even though it seems to conflict dramatically with the specifics of the initiative approved by voters, how binding is the wording of any initiative? It's hard to believe the state's highest court didn't find such matters important enough to consider.



Steven Greenhut


Senate leader chooses a grandiose start
My how the tone has changed in Sacramento in a short time, given the nature of Wednesday night's inauguration of Sen. Kevin de León, D-Los Angeles, as the Senate's new president pro tempore. When Jerry Brown was inaugurated as governor in 2011, he gave a 16-minute speech that focused on "courage and sacrifice" at Sacramento's aging Memorial Auditorium. The Christian Science Monitor called it an "austere ceremony" that "set the tone" for his governorship. It was all about California. De León's inauguration was anything but austere. Arnold Schwarzenegger's inauguration was garish, but he was elected governor. Legislative leaders are selected by their peers to these administrative roles. In May, Assembly Speaker Toni Atkins, D-San Diego, had a long and laudatory, but tasteful, ceremony in the Assembly chambers. The Senate in particular ought to be careful about imagery. In the past year, it has been plagued by scandals: allegations of staff nepotism, a senator's drunken-driving-related arrest following photographed partying on a Capitol patio, the conviction of a senator on perjury charges, and the suspension of two other senators who face federal corruption charges. If the Senate ever needed to show a little humility, now would be the ideal time.



Scott Herold


The campaign of fear comes to the San Jose mayor's race
The New York Times ran a piece last weekend about how Republicans and conservative talk show hosts have been harping on Ebola, the beheadings by the Islamic State and the flubs of the Secret Service. Their point is to show that the world is so bleak under the leadership of Barack Obama that people should turn to the GOP. Never mind that they overstate the threat, or that blaming Obama for it all misses the mark. Scaring voters is effective politics. The Republicans want control of the U.S. Senate. Something similar is unfolding here in San Jose, though the ideological platform is very different. The scare tactics here are coming primarily from the advocates of Supervisor Dave Cortese for mayor, particularly the unionized cops and firefighters.



Dan Morain


McClintock is no paragon of bipartisanship
Suddenly, Rep. Tom McClintock is portraying himself as willing to work with Democrats. But the
conservative Republican did not quite have that reaching-across-the-aisle thing down when he showed up for a debate of his choosing – at 7 a.m. Tuesday at Auburn City Hall – with his challenger, Art Moore. McClintock, 58, is seeking a fourth term in Congress and almost certainly will win. But Moore, 37, an underfunded neophyte making his first run for public office, might be throwing a bit of scare into him. That wouldn't be bad.

Dan Walters
Torlakson-Tuck contest is just one front in war over California public education
Even at a superficial level, the contest between two Democrats for the supposedly nonpartisan office of state superintendent of schools is interesting. The CTA and its rivals are spending millions on the Torlakson-Tuck contest, which is too close to call. Regardless of who wins, however, the war over California schools will continue.



Dan Walters


Democratic supermajorities at risk with taxes in background
The biggest election issue this year, at least among Capitol insiders, is whether Democrats can regain their supermajority in the Senate and hold their 55-seat supermajority, now just one over the two-thirds mark, in the Assembly. The latter appears to be the more likely.



Steven Greenhut


Senate secrecy latest sign of bad culture
California's top legislative body, the state Senate, does not lack pretension, as senators pass far-reaching bills and prattle about the nobility of public service. Yet its high pretensions have run up against some lowdown scandals, the latest of which surfaced in a bizarre Sacramento criminal trial this week.



Steven Greenhut


Power drunk' agency slams small winery


Vintner closing doors after fined for use of volunteer labor


Last fall, my wife and I spent a Sunday afternoon at a small winery in the Sierra foothills picking grapes and crushing them in some contraption — followed by a picnic and wine drinking. It was lovely, but unbeknownst to us, state officials apparently believe that we and our fellow volunteer grape-pickers were being exploited.



New York Times


Silicon Valley's Diversity Problem
After years of playing down the problem, technology companies like Google, Facebook and Apple now say they're serious about improving the gender and ethnic diversity of their work forces and corporate boards. Recent data from those companies and others like them confirm what everyone has long known: Most of their employees are white and Asian men. Among technical employees, few are women, and even fewer are Latino or African-American.



Dan Walters


Six-state measure would have given regional governments a boost
Draper's regional governance provision is why, one suspects, his measure drew such vehement opposition from unions and other liberal groups, which have benefited from an ever-more-powerful state government dominated by friendly Democrats.



Dan Walters


Brown honors principle of subsidiarity sometimes
If consistently applied, subsidiarity would represent a major reversal of several decades of concentrating authority in Sacramento, ever since Proposition 13, enacted during Brown's first governorship, restricted the ability of local governments to raise tax revenue. Brown has not been consistent, however, citing the principle when it's convenient but ignoring it on other occasions.



YUNLEI YANG


Asian Americans would lose out under affirmative action
A recent Field Poll claimed that most registered voters and Asian Americans in California support affirmative action. Based on the poll data, Karthick Ramakrishnan, a professor of public policy and political science at UC Riverside, indicated that the intense opposition to State Constitutional Amendment 5 (or SCA-5) earlier this year, an attempt to restore affirmative action in California's public universities, "was primarily concentrated among a small group of Asian American activists, with the more numerous silent majority still supportive of affirmative action." As an official with the Silicon Valley Chinese Assn., which was a major force behind SCA-5's defeat, I find the poll question misleading and Ramakrishnan's reasoning deeply flawed.



Steven Greenhut


New laws make case for direct democracy
Given the volume of bills, it's hard to find a theme for the past session. So I turn to the curmudgeonly journalist, the late H.L. Mencken, for a tried-and-true theme: "For every complex problem, there is an answer that is clear, simple and wrong." This Legislature seemed to specialize in offering solutions that probably won't work as planned.



Fresno Bee


State Senate should release report on nepotism
The California Senate spent $98,000 in taxpayer money to pay a private law firm to investigate a sordid story of nepotism and cronyism in the Senate. Last Tuesday, the Senate refused to release the final report into how public servants used and misused their positions of authority to hire, protect and coddle friends and family. Without transparency, this $98,000 investigation is just another government cover-up.



Steven Greenhut


Study and fracas put pensions in focus
When it comes to reforming California's underfunded public-pension systems, "progress" has been coming in the one-step-forward, two-steps-backward variety, with new funding problems still outpacing any local and state reforms.



Dan Walters


Californians with gold fever strike a legal lode
California explosively emerged as a place of importance – and quickly became a state – for one reason only: the 1848 discovery of gold in the American River. Gold seekers poured into the state from around the world, creating what is still a unique society in what had been a remote coastal frontier, and the rest is, as they say, history. Gold fever eventually abated, but 166 years after James Marshall spotted those flecks of gold in John Sutter's sawmill at Coloma, some folks still seek what gold panners and the later hydraulic miners left behind in streams.



Dan Walters


Jerry Brown hands United Farm Workers a setback
What goes around comes around. Jerry Brown devoted much of his first governorship to seeking other offices, so his record of accomplishment was scant. He's often touted a 1975 deal to give farmworkers, excluded from the National Labor Relations Act, union rights in California, supposedly settling years of strife between the United Farm Workers Union and growers. However, it merely ignited decades of new strife, which continues with Brown's recent veto of a new farm labor bill.


Aubry Stone


Don't shut out black residents from clean energy revolution
I'm very troubled by the obvious slight the renewable energy industry – in particular solar – is giving African Americans in Southern California and around the state. Like everyone else, the African American community needs to be involved in the clean energy revolution. Sadly, we are not. Current public policies serve as a barrier to entry for African Americans to take advantage of these green energy sources.